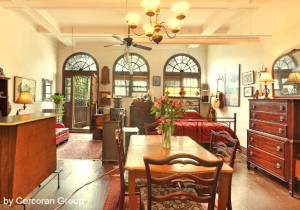 On Friday September 12, there will be an art exhibition at 498 Court Street in Carroll Gardens.  This isn't any ordinary art show.  Of course you will have the opportunity to purchase a painting, but you also have a chance to checkout the building itself, which is up for sale for a cool $3.2 million, which isn't too bad forCarroll Gardens.  The building has a limestone facade and wrought iron gates.
The current configuration of the building is a gallery and studio on the first floor and two 1 bedroom apartments upstairs.  If you buy this building, according to Andrew Booth, the broker, you can turn the building into a single family mansion.
So if you're looking for some art, and maybe do a little mansion shopping at the same time, check out the gallery.  By the way artist Rodrigo Imaz from Mexico and Adam Stone, based in LA, will be showcasing their work at the exhibition.