01jun12:00 pm5:00 pmGreencycle Swap at Go Green! BK Festival!12:00 pm - 5:00 pm McCarren Park, 776 Lorimer Street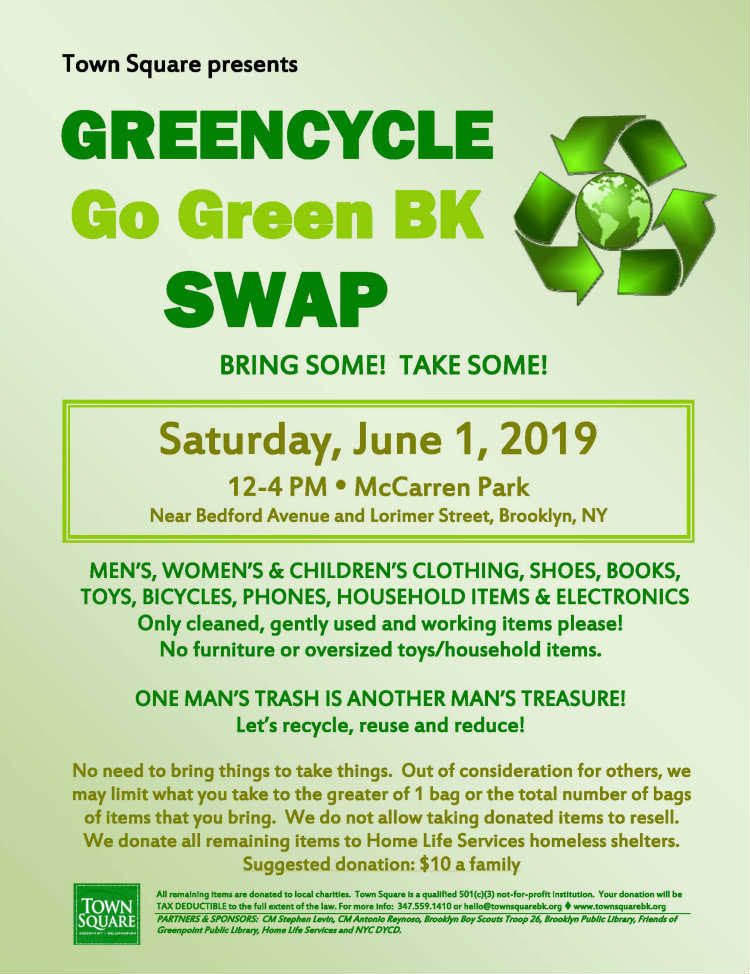 Event Details

Greencycle Swap at Go Green! BK Festival!
Saturday, June 1st, 2019, 12-4 PM
McCarren Park, Greenpoint/Williamsburg, Brooklyn

It's time for the biggest Greencycle Swap of the year. Go Green! BK Festival in McCarren Park is where it all began 12 years ago. Clean out your closet! Grab those gently used items that's taking up valuable space. Bring everything over to Greencycle Swap at Go Green! BK Festival in McCarren Park!

Bring some! Or take some!
One man's trash is another man's treasure.
Let's recycle, reuse and reduce.

MEN'S, WOMEN'S & CHILDREN'S CLOTHING, SHOES, BOOKS, TOYS, BICYCLES, PHONES, HOUSEHOLD ITEMS & ELECTRONICS. NO FURNITURE OR OVERSIZED ITEMS (other than bicycles). We will accept electronics until 4 PM. Cleaned, gently used and working items please. No need to bring anything to take items. Out of consideration for others, we may limit folks to the 1 bag or the number of bags that you've brought to donate to the swap. We do not allow taking donated items to resell. Why? Because all remaining items are donated to local homeless shelters for neighbors truly in need.

We're delighted to partner with Home Life Services which runs five shelters in Brooklyn and Bronx, including one here in Greenpoint. Toys, books and children's clothing will be earmarked for their Albemarle Family Residence in East Flatbush; this shelter houses 180 children, ages 5 through 18! Please help these children and families while benefiting our environment.

$10 suggested donation a family to help cover costs. Town Square is a qualified 501(c)(3) not-for-profit institution. Your donation will be TAX DEDUCTIBLE to the full extent of the law. For more info, please contact Town Square at 347.559.1410 or greencycle@townsquareinc.com. We gratefully thank our partners and sponsors: CM Stephen Levin, CM Antonio Reynoso, NYC DYCD, truly awesome Brooklyn Boy Scouts Troop 26 and Pack 7, Greenpoint Public Library, Leonard Public Library, and Home Life Services.
Time

(Saturday) 12:00 pm - 5:00 pm
Location

McCarren Park

776 Lorimer Street