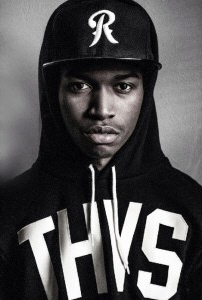 I.O.D. is a 20 year old emerging hip-hop artist from Brownsville, Brooklyn. He calls himself the "Brownsvillain", and you might have seen him at shows such as Trillfest. He has performed at the Apollo, and he is slated to perform at the Brooklyn Music Festival this summer. His mix tape "11212" generated a lot of buzz from the underground hip-hop circuit, and he considers himself to be Brownsville's cultural icon.
Below you can check out a "Morning Juice" episode featuring I.O.D. and my interview with him!
Wishing you the best,
-aiP
*What does I.O.D. stand for? Where did you get your stage name from?*
The first definition of I.O.D. is pretty much the face value. When someone says "I Odee" it's like saying they over do it or they're going hard. The second definition is a play on the word God. I have a strong belief in the inner God within everybody. I try to represent that through my music as much as I can. I take the G out of God and replace it with an I making it I.O.D. a.k.a. Inner God.       
*How old are you? Do you go to college? If so, do you think studying something else will deter you from your music career?*
I'm 20 years old. I'm not in college at the moment. I was never too good at school or cared much for it so when I finally got the opportunity to choose if I wanted to learn from real world experiences or curriculum's there was no question about it. 
*What are your other talents?*
I engineered for 2 years so I'm pretty decent at mixing and production. I played the clarinet in high school, started learning the sax and piano after I graduated. If you want to call being a beast at fighting games a talent you can throw that in to. 
*What are some topics that you are tired of hearing about in rap/hip-hop music nowadays?*
Really tired of drug rap. I might be a hypocrite because I got 1 or 2 weed songs myself but I don't hear too many artist talking about anything relevant other than drugs. It's in every rapper's catalog of music it makes everything feel so one-dimensional. Not saying there's anything wrong with drugs but we need more of a diversification of topics in hip hop music. 
*Who are your favorite artists, and why?*
Off the back I got to say Jay-Z is my favorite of all time. Jay-Z was my introduction to rap; 6-7 years old watching the Big Pimpin video on TV for the first time. All I wanted to do is rap after I saw that. I even got kicked out of class for rapping lyrics to "I Just Wanna Love Ya" and all of Jay-Z lyrics only related to me more as I got older. I'm not a huge fan of his latest works and I have had Kanye, James Blake, and SaveMoney in heavy rotation lately. But yea, Jay-Z is that ninja. 
*You consider yourself to be a "cultural icon". What makes you feel this way, and how soon do you feel like people will agree with you?*
I feel as if I am the cultural icon of Brownsville. I will be, if I'm not already, the voice of my community and what it means to be from the most dangerous ghetto in America. Hopefully by giving my story I can be the cause of even the slightest change in the lives of millions. 
*Give us some I.O.D. fun facts!*
My favorite food is Parmesan chicken. 
I didn't learn how to ride a bike till I was 14. 
I'm Honduran. 
*Where do you want your music to take you in the year of 2014?*
I'm hoping to see the rest of the world. I've felt so boxed in New York for so long. I'm eager to see what kind of people and experiences there are out there. 
*Where can we keep up with your progress?*
 IODOfficial.com. Check in regularly for updates and shows or join the movement and subscribe with your email. You'll be put on major shows and new music before the general public.