It's ridiculously cold outside this winter. Warm yourself with a bowl of ramen at Chuko!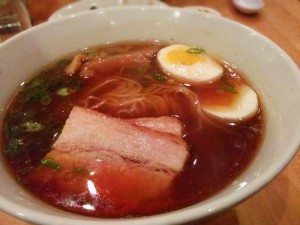 Things to know:
1. They have an electronic wait list!
Go in and tell the host your name/#, and feel free to roam around. They don't always have this system in place, but they are normally pretty lenient about it – they're not like other places where you MUST be there when they call your name or you go to the back of the line.
2. The kale salad is amazing.
It is one of my favorite things to eat, ever. It's delicious, and even if you don't like kale or salad, you will like this. It has pieces of tempura'd kale, along with crunchy sweet potato, golden raisins, and just an addictive dressing.
3. Different ramens have different noodles.
I'm not a ramen pro, so I'm not sure what these noodles are actually called, but I know the pork bone ramen has a thinner, harder noodle than the miso ramen, which has a slightly thicker, softer noodle.
4. Go within 1/2 an hour of opening to avoid a wait.
I am so, so, so lucky to live so close by, that on weekends I can wake up and walk to Chuko with no fear of a wait. Otherwise, I think the wait is around 15 minutes to an hour, depending on when you go.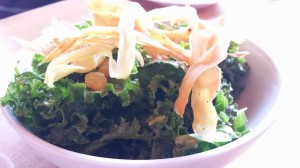 5. Don't go with a gigantic group.
It's a pretty intimate area – it's not the most comfortable place to eat, unless you're lucky and get one of the side booths.
6. Cash only!
But don't fret, they have an ATM in store. One down side – sometimes the ATM can only spit out 50's, so just be aware of that.
7. Extra noodles are $1 extra.
So, double the size of your meal for an amazing price! Although, I rarely ever finish the first bowl of noodles…
8. Everything is delicious!
I have been trying to eat my way round the menu, and so far, there isn't a single thing I haven't liked. My favorites are the miso ramen (I think it has more depth of flavor than the pork bone, and you won't even want to add the spicy garlic oil that they offer) and kale salad (must be said again).
Chuko
552 Vanderbilt Ave
b/n Dean St & Atlantic Ave in Prospect Heights
(718) 576-6701
barchuko.com