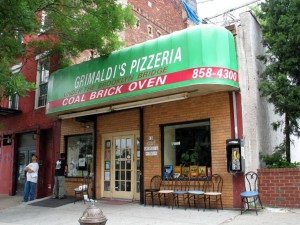 In the world of pizza, Grimaldi's is an institution. Grimaldi's history of coal-fired brick oven pizza cooking can be traced to the first pizzeria in America back in 1905. Coal-fired brick oven cooking gives pizza a unique smoky flavor and a crisp crust that is just not possible with gas, convection, or wood oven. Knowing coal-fired brick oven cooking is a dying art, Grimaldi's wants to ensure that future generations will be able to experience this distinctive and truly authentic pizza.
You can't go wrong with a coal-fired pizzeria under the shadow of the Brooklyn Bridge. Not only will you get a memorable pie, you'll also get a memorable view of Manhattan from one of the oldest — and most picturesque — parts of Brooklyn. Not to mention a jukebox filled with classics by Frank Sinatra, who – legend has it – had Grimaldi's pies flown to him in Vegas.
Grimaldi's wild popularity has nothing to do with its proximity to newly trendy DUMBO: The noisy pizzeria has been serving exceptional coal-oven pies for over a decade. A no-reservations, no-delivery policy guarantees long lines spilling onto the sidewalk, but no one seems to mind.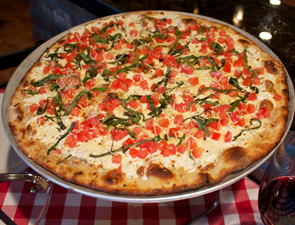 Note: Grimaldi's only sells pizza by the pie; no individual slices available.