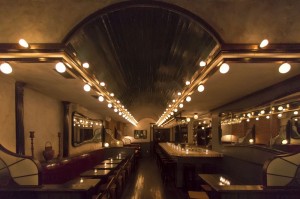 Excellent cocktails. Extensive wine list (with a few high quality beer choices as well). Gorgeous decor. Hospitable service. Best of all, they boast diverse and original small dishes that range from quite good to absolutely outstanding, at a surprisingly reasonable price.
I shared the Slow-baked Carrots (solid, but the accompanying Roman Gnocchi were stunning), the Cassoulet (rich and delicious), the Kale Salad (it is Brooklyn, after all), the Acorn Squash Flatbread (nice), and the Brioche (absolutely amazing). It turned out to be more than enough for two.
June may be new to the neighborhood (just opened 3 months ago), but as far as I can tell this wine bar's only shortcoming is how tough it's going to be to get a seat.
231 Court St
b/n Baltic & Warren Streets
(917) 909-0434
junebk.com