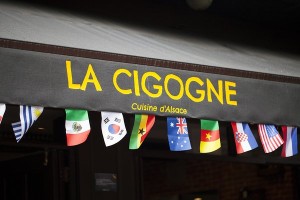 Did I just step into a tucked away French plaza? Is that dining al fresco and a French film playing on the TV? It's La Cignone, and yes it's truly modern European at a price you can afford. Hip, chill, AUTHENTIC. There is no pretending. The atmosphere alone is worth a visit.
From the moment I entered, I liked the place immediately. Cozy but spacious at the same time, with its bench seating and lots of roomy space between the tables. In the back is a big roaring fireplace, which creates the best sort of ambience. I love how relaxed this place is. It is not loud at all, and even the other customers seem very laid-back. The servers and staff are so friendly here.
For brunch, I had the eggs benedict which was served with home fries and some dressed arugula. The hollandaise sauce was just right, eggs poached to perfection and home fries seasoned and delicious.
I was treated to a sampler as I stayed after my meal ended, to enjoy the French film they were playing. Service was exceptional and truly felt like I was visiting a friend's home and they were preparing their best dish for me.
Also, just as an FYI, they have meteor beers on tap for all the French beer lovers out there! They also have an excellent selection of wines.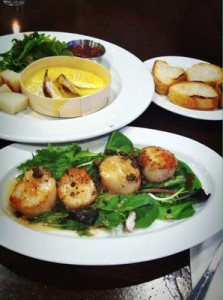 La Cigogne
215 Union St
b/n Clinton & Henry Streets
(718) 858-5641