For you non-Spanish speakers, this restaurant's name literally translates to "taco shop of the dead". Despite the odd name and the decorative (fake) skulls lining the inside walls, I guarantee that this place is for the living. With an exposed brick wall, it has a very homey feel to it. Ordering is easy, and we all like easy. Simply tell them what you'd like off the menu at the counter, and grab a seat. Since seating is limited, you'd better do so quickly – especially around lunchtime.
Now, let's get to the heart of this piece: the food. As it is a Mexican place, you can have the usual dishes like quesadillas, tacos, tostadas, and burritos – but offered with an extensive variety of fillings. Not only can you choose from four types of beans, but there are also seven meats (including tongue, and chicken and pork each done two ways) and two vegetarian-friendly options. They also serve alcohol – beer, margaritas, mimosas, you name it. Talk about pro-choice.
The best dishes I've had are the fish tacos. You can choose between the catfish or mahi mahi (or do a combo), but I prefer the catfish. The tacos burst with flavor and are made of perfection. Even Californians have raved about them! The dish comes with 2 tacos, and chips and dip. Trust me when I say that's enough. The tacos are very filling, and you'd be a glutton for punishment if you tried eating a third. The fish tacos alone make this spot Prospect Heights' best kept secret.
As for the cost of this delicious food…it's cheap! Who doesn't love low-cost tastiness? If you want to get an insanely good deal, stop by on a weekday at lunchtime. The $7 lunch special gets you a salad or soup AND a burrito, quesadilla or 2 tacos.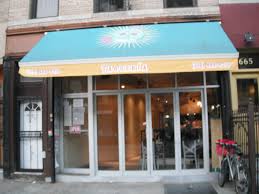 The only negative about this place is the fact that it doesn't have a website. It's interesting that they've decided to stick with the old-school word-of-mouth way to maintain business, but it doesn't seem to be hurting them at all. The spot is never empty when I go. If you'd like to see a menu before going, visit menupages.com, then head over to Taqueria De Los Muertos at 663 Washington Ave. Enjoy!