21sep12:00 pm4:00 pmSchoolfest 201912:00 pm - 4:00 pm John Ericsson Middle School 126, 424 Leonard Street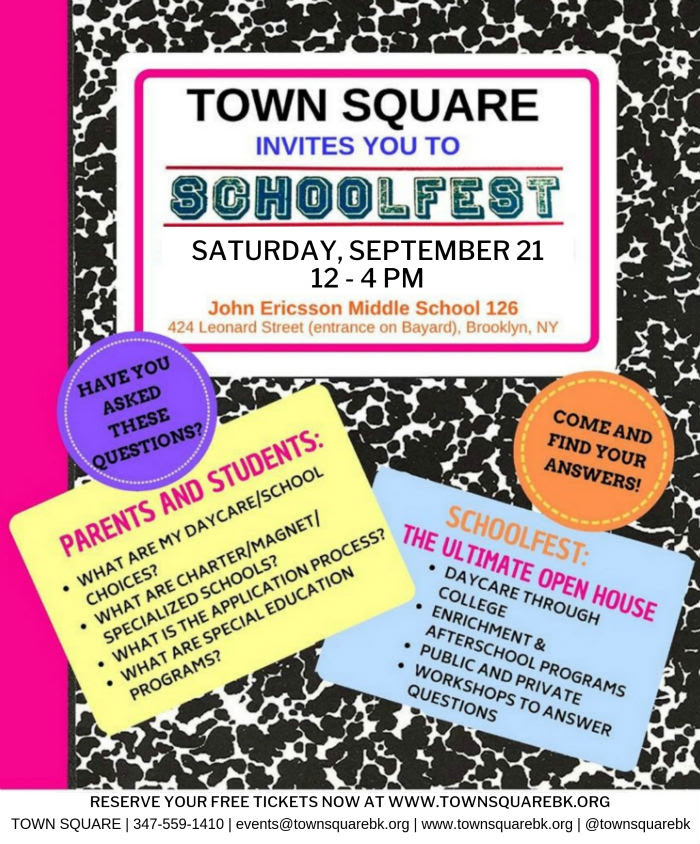 Event Details

Schoolfest 2019
Saturday, September 21, 12-4 PM
John Ericsson Middle School 126
424 Leonard Street (Bayard entrance), Brooklyn

What do you think of Saturday, September 21st for Town Square's 12th Annual Schoolfest? Save the date for a day of education and enrichment! Better, yet, sign up for your exhibitor spot or reserve your FREE admissions ticket.

Schoolfest is a beloved one-of-a-kind school fair for North Brooklyn families. Parents and students are invited to meet all types of schools from day care through high school (even college) at one place on one day. We'll have public, private, charter, magnet, community, dual language, gifted, etc…who'd have thought that there are so many?

Schoolfest offers a supportive networking and informational experience for parents and exhibitors. Schoolfest allows our neighborhood schools to share new information and projects with each other so that everyone may benefit. Most importantly, Schoolfest understands that parents can often be overwhelmed by school choices and admission processes. Schoolfest helps parents navigate through the confusion so that they can make the best choice for their child's educational needs.
Time

(Saturday) 12:00 pm - 4:00 pm
Location

John Ericsson Middle School 126

424 Leonard Street