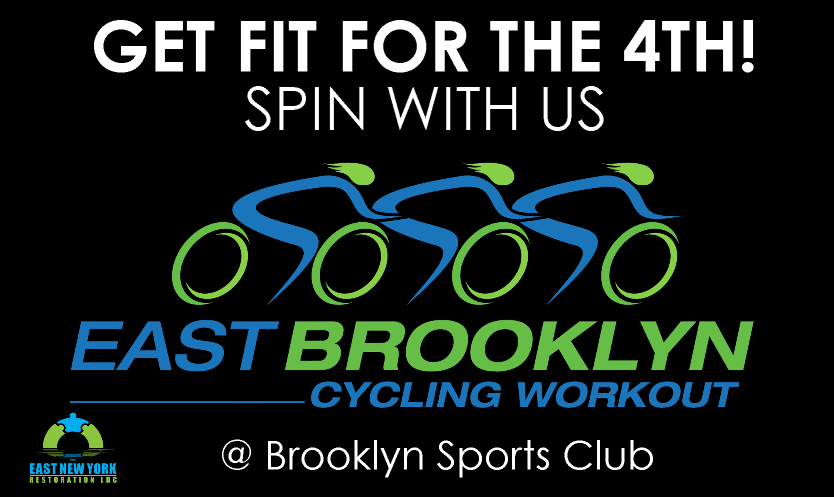 East New York Restoration has partnered with the Brooklyn Sports Club for the first annual Get Fit For the 4th Cycling Workout Challenge.   Some of you might call it "Spinning".  If you haven't been to the Brooklyn Sports Club then you are in for a treat.  Being a part of the East Brooklyn Cycling Workout Challenge is the best way to Get Fit for the 4th of July weekend, which is right around the corner.  You can start your summer off right by getting in shape, having fun and shedding some unwanted pounds.  Join Us!
Here's what you get with the East Brooklyn Cycling Workout Challenge.  First of all, this is an opportunity to challenge yourself, while working together for a common goal. Every Challenge participant gets an East Brooklyn Cycling Workout shirt when you register.  The Cycling Challenge Workout is run by a Brooklyn Sports Club trainer every Tuesday and Thursday from 6pm-7pm beginning June 3 and ending June 26.  The Brooklyn Sports Club is giving all Challenge participants full access to the club for the length of the Challenge, which means you can use the swimming pool, weight rooms, gym, zumba, etc….., from Jun 3 – June 26.
There are a limited number of slots available so Register TODAY at the Brooklyn Sports Club located at 1540 Van Siclen Ave @ Starrett City.  For more information Contact ENY Restoration @ 718-676-5920
The East Brooklyn Cycling Workout Challenge is just $80 for the full 24 days of the Challenge, plus you get full use to the incredible Brooklyn Sports Club.    – The Brooklyn Sports Club also provides Membership Discounts for those who become Club Members through ENY Restoration or EastBrooklyn.com.  Contact Debbie Ann Schneider for Membership Discounts – 718-642-2720 or DSchneider@BrooklynsportsClub.com.  It's all about Healthy Living!!