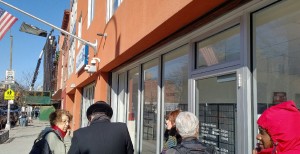 On this unseasonably cold Tuesday morning, at the Myrtle Avenue Post Office in Ft. Greene Brooklyn (609 Myrtle Ave), the line outside extended to nearly 20 people, as they waited for nearly an hour for the Post Office to open.  The sign on the door reads 9:00am-5:00pm, but it was now 9:40am, with no workers inside to open the doors.  A few of the postal employees were also waiting outside for another employee to show up with the key.
The crowd was informed that one person had the key and that person had not showed up yet. "How can one person have the key to a postal facility? that's insane.  Where are the supervisors and managers?", stated one person who had been waiting since 9:00 am.  There was a couple with a baby in a stroller, an elderly woman on a motorized wheelchair, and people who tried to pickup packages that had never been delivered to their homes.
A postal worker with the key finally opened the doors at 9:46am.  When the doors opened people promptly took their positions on line, inside the post office,  while the workers were behind the glass windows getting their counters ready for the day.  There were no apologies given until one of the customers on the line stated, "what really gets me is that we waited on line for nearly an hour and not even an apology from anyone".  Once that statement was made by the customer, the woman behind the counter, who came in with the key, explained that she worked until 3am at another site and was called in to open the doors for this site.
This looks like a small sample of why there are cries for the US Postal Service to become privatized.  This is either incompetence at the core, or sabotage to force the privatization of the US Postal Service.  In either case, the customers are made to suffer.