Join Brooklyn Eats on Myrtle, located at 474 Myrtle Avenue as they collaborate with the Myrtle Avenue Brooklyn Partnership for the Black Artstory Month Opening Party.
Swing by today at 6 p.m. to view the artwork of over 25 local artists and then root for your Superbowl pick immediately thereafter!
Hungry? Brooklyn Eats has specials that your mouth and  your wallet will love. Check them out:
$3 Beers
$3 Sliders
$.50 Wings
Cocktail specials all night long!
No need to RSVP, we'll leave the door open for ya!
Here's some information about the Myrtle Avenue Brooklyn Partnership's Black Artstory Month initiative: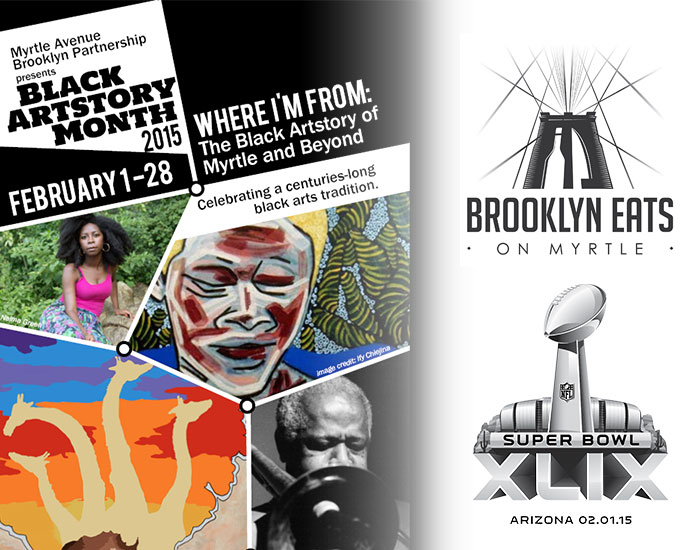 The Myrtle Avenue Brooklyn Partnership presents the 3rd Annual Black Artstory Month, a month-long series of FREE art exhibits, performances, film screenings, and more in Fort Greene, Clinton Hill, and Wallabout, Brooklyn.  Black Artstory Month celebrates the enduring influences and contributions made by African Americans within the visual and performing arts worlds. Coinciding with this year's Black History Month, "Where I'm From: The Black Artstory of Myrtle and Beyond" features themes of time, travel, and transition by over 25 Brooklyn-based artists.
The Partnership is working with co-presenters BLDG 92, FOKUS, the Irish Arts Center, New Negress Film Society and SONYA (South of the Navy Yard Artists).
"This is the highlight of our Arts & Culture programming on Myrtle Avenue.  We are excited to create opportunities for local artists and to celebrate and elevate our community's rich African American history, especially in the arts.  Our locally owned businesses join us in the effort to create collaborations with artists and organizations and to introduce new audiences to the Myrtle Avenue artistic & cultural experience" – Meredith Phillips Almeida, Executive Director.
Black Artstory Month Opening Party (Music)
Sunday, February 1, 6-9pm
Start February off right with dancing and drinks at the Black Artstory Month Opening Party. Sounds by Flames Baldwin.
Brooklyn Eats, 474 Myrtle Ave between Washington Avenue & Hall Street
Black Artstory Month celebrates the contributions that African- Americans have made and are making within the arts community. The series of FREE events includes art exhibits, film screenings, performances & more throughout Black History Month. This program is sponsored, in part by the Greater New York Arts Development Fund of the New York City Department of Cultural Affairs, administered by Brooklyn Arts Council (BAC).
Follow Black Artstory on Instagram