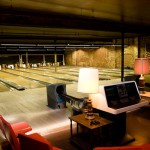 1. THE GUTTER: It opened up in 2007, boasting elegant, old school lanes, a classic bar and vintage decor. Those vintage wooden lanes are a little more scuffed seven years later, but that's a sign of love. They've still alcohol, decent or maybe slightly expensive prices ($7 per game, $40 per hour weekdays, $45 per hour on weekends), and NO CHILDREN ARE ALLOWED, which is a bonus for those who are merely pairing their drinking with a couple tosses of a bowling ball. As a bonus, you can bring your own food here, and no evil animated bowling pin will dance across an LCD screen every time your ball makes a sad beeline for the gutter. The Gutter is located at 200 North 14th Street between Berry Street and Wythe Avenue in Williamsburg (718-387-3585, thegutterbrooklyn.com).
2.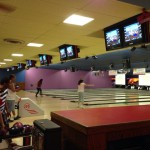 MELODY LANES: Unlike The Gutter, this Sunset Park bowling alley isn't a recreation of an old school spot— IT IS an old school spot right out of the post-disco era. Lanes are dotted with gaudy strobe lights, the ceilings and floor tiles are brightly-colored and clientele ranges from senior bowling leagues to young locals to hipsters. There's also a bar, of course, and a little arcade area in the back if you get tired of all the heavy lifting. Do note that a night out here will cost you $7 to $9 per person, $45 for one hour of a lane, and $65 to $75 for two hours. Melody Lanes is located at 461 37th Street between 4th and 5th Avenues in Sunset Park (718-832-2695, melodylanesny.com).
3. BROOKLYN BOWL: Like Manhattan's Lucky Strike, this spot's a high-end kind of place, boasting over a dozen lanes, a Blue Ribbon Fried Chicken outpost and the occasional (read: very frequent) concert. On unbooked evenings, you can usually catch a fun music video and the occasional free bowling special. Otherwise, lanes run $20 per lane per half hour (BOWL VERY FAST) Monday through Wednesday and $25 per lane Thursday through Sunday, though you can score 50 percent off on Sundays if you mention the "Sunday Special" at the door. Brooklyn Bowl is located at 61 Wythe Ave between North 11th and 12th Streets in Williamsburg(718-963-3369, brooklynbowl.com).
4. SHELL LANES: Circling back to the old school lanes, this Gravesend spot is one of the cheapest in the city for some low-key bowling. The alley boasts 32 lanes and offers open bowling at $3.75 to $6 per game, plus they've got a whole slew of leagues on tap if you plan on making things a bit more competitive, not to mention sporadic weekday and weekend specials. There's nothing glittery or fancy here, it's just a cheap spot to bowl—a dwindling commodity in the city, especially now that beloved Bensonhurst alley Maple Lanes has closed. Expect to meet a few characters here, and remember that this isn't 'NAM – this is bowling. There are rules. Shell Lanes is located at 1 Bouck Court between 3rd Street and Shell Road in Gravesend (718-336-6700, shelllanes.com).
5. STRIKE 10 LANES: Formerly known as Gil Hodges, a shabby space with run-down equipment makes this Gravesend bowling alley one of my last picks for bowling in Brooklyn. It makes the list simply because it's cheap. If all you want is a simple game or two without spending much, this is the place. Games are $6; shoe rental is $4. Strike 10 Lanes is located at 6161 Strickland Avenue in Gravesend (718-763-6800, strike10lanes.com).