The craft industry has been boomin' in the last few years with throwbacks to crafts that your grandma probably did, but brands like Subversive Cross Stitch have been doing a good job of reinventing them with a sly wink and a dose of pop culture. TLC has its Craft Wars reality show – hosted by Tori Spelling, and Spelling now has her own line of craft products.
But this is Brooklyn, and we don't need Tori Spelling telling us how to make things. Etsy started in Dumbo and the Brooklyn Flea is filled with new talent every weekend. Whether you want to start your own Etsy shop or just make a Mother's Day gift, Brooklyn is loaded with places to learn sewing, knitting, jewelry making, weaving, woodwork and more. Here they are. If I forgot some, please shout them out in the comments!
GENERAL CRAFTS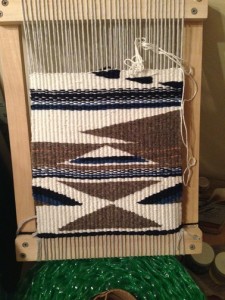 Brooklyn Brainery
515 Court St.
The Brainery features a rotating list of classes in knitting, stationery making, calligraphy, friendship bracelet making, origami and more. Their classes meet for one- to three-week sessions and range from $11-$50 with many in the under $20 range. Browse the course offerings here.
Skillshare
Classes are in various locations, See website for details
Skillshare features an abundant list of classes in various specialties such as jewelry-making, beginner crochet, needlepoint pattern making, digital textile design and bookbinding. Most of the classes range from $20-$40 for a one day session, to more for a more in depth 10-week session class. Check out their classes here.
3rd Ward
195 Morgan Ave
3rd Ward has quickly become an artists' hub that functions as both a rental workspace and education center. They have a wood and metal shops, photo and jewelry studios, and classes ranging from beginner to advanced levels in everything from printmaking to electronics to their popular upholstery class. The most in-demand classes are offered somewhat often, but tend to fill up quickly. Classes range from $50-$300 depending on the craft and the number of weeks that the class runs for. 3rd Ward is now offering a sweet spring deal until the end of April that if you schedule a tour of their space online you get a $25 class gift card to be used towards future class enrollment. Browse the course offerings here.
 SEWING, KNITTING, NEEDLEWORK AND TEXTILES 
Brooklyn General Store
128 Union Street (between Columbia & Hicks)
Call or e-mail for class schedule 718-237-7753 or info@brooklyngeneral.com
The Brooklyn General Store is a overall jam-packed craft store that offers a wide variety of classes and one-day workshops in crochet, felting, sewing, yarn spinning, knitting, patternmaking, needlework, and quilting.
ELECTRONICS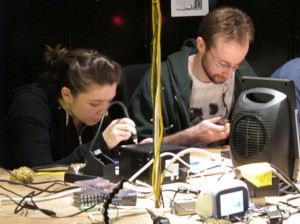 NYC Resistor
87 3rd avenue
Lasers! Robots! Electronics! NYC Resistor is a hacker collective that features weekly craft nights on Thursdays, access to their laser cutter and classes that teach you how to use it, classes in circuitry and basic Arduino programming, and more.  Most classes are in the $50-$75 dollar range for a three to four hour, one-day class. Their popular "Fire the Lazzzzor! Learn to rapid prototype using the 35 Watt Epilog Laser" class grants students the skills and access to come back on open lab nights and operate the laser cutter for free. Browse the course offerings here.
POTTERY
Baked in Brooklyn
242 Wythe Ave. 
(entrance on N 3rd St.)
Check website for class and party details.
Baked in Brooklyn is an open studio where you can stop in and choose one (or more) from out of over 100 pieces of pottery to paint. Their staff will then glaze and fire your pieces for you in one of their kilns. The finished product is food-safe and ready in about a week. They also have classes for kids and adults, and host paint your own pottery parties. Items painted range from $4 & up. Browse their course offeringshere.
Also Check Out 
Clayworks on Columbia (ceramic craft classes)
JEWELRY 
Brooklyn Charm Shop
145 Bedford Ave. Entrance on N. 9th Street
A jewelry-making supply center that also sells the finished product, Brooklyn Charm is staffed by knowledgeable and helpful folk; they will answer your questions on the spot and even aid you in making a piece of jewelry on the spot if you don't want to sign up for a class. They also offer classes, which come with a 25 percent off discount for supplies bought the day of the class as well as a coupon for 25 percent off to use at a later date. All classes cost $40, you can browse their current class list here.
PAPER CRAFTING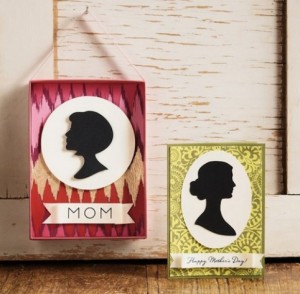 Paper-Source
102 Smith St., (between Atlantic & Pacific), Cobble Hill
Paper-Source is a colorful craft supply store, gift and print shop, offering one-day workshops in cardmaking, stamping, DIY wedding craft planning and more. I've been a shopper at this store since it first opened, and they have a helpful and knowledgable staff. Take a workshop and receive a coupon for 10 percent off of purchases. Classes range from $15-$25. Check out them out here.