B

A

Y

R

I

D

G

E

B

A

K

E

R

I

E

S
Leske's
This Fifth Avenue stand-out gives you a taste of Bay Ridge's Scandinavian past, specializing in Danishes, kringler, marzipan cake, and black-and-white cookies. The old-fashioned Brooklyn blackout cake and distinctive doughnut flavors are also a hit.
[7612 Fifth Ave., between 76th and 77th streets in Bay Ridge, (718) 680–2323,www.leskesbakery.com].
Jean Danet Pastry
A world of eclairs, napoleons, fruit tarts, baguettes, chocolatemousse, and customized cakes — all courtesy of owner Pat Giura, a graduate of the French Culinary Institute. This 40-year-old shop also trades in Italian treats and brick-oven pizza.
[7526 Fifth Ave., between 75th and 76th streets in Bay Ridge, (718) 836–7566, www.jeandanet.com].
Sweet Arayssi
The first Arayssi family bakery opened in mid-19th Century Beirut. In 1992, Sami Arayssi, a scion of the dynasty of delicacies, brought the traditional recipes across the Mediterranean Sea, the Atlantic Ocean, and the New York harbor to Fifth Avenue in Bay Ridge. The ovens here have been giving birth to barazik and ma'amoul cookies, turmeric cakes, coconut maakaroons, mishmishya, and date fingers ever since.
[7216 Fifth Ave., between 72nd and 73rd streets in Bay Ridge, (718) 745–2115,www.arayssi.com].
Bay Ridge Bakery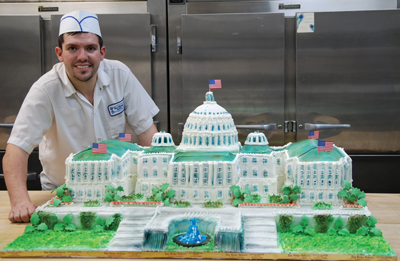 The Greek-born John Nikolopoulos opened this confectionery in 1974. Besides baklava, olive-laced "mama's bread," and feta turnovers, Bay Ridge Bakery also whips up French cheesecakes and Italian cookies.
[7805 Fifth Ave., between 78th and 79th streets in Bay Ridge, (718) 238–0014,www.bayridgebakery.com].
Monaco's
Joe Monaco — a former East Village baker-to-the-stars, whose past clients included Frank Sinatra, John Belushi, and Elizabeth Taylor — struck out on his own and opened this pastry shop in 2011. His cannoli, strawberry shortcake, and repertoire of croissants have since become legendary in the neighborhood.
[8511 Third Ave., between 85th and 86th streets in Bay Ridge, (347) 497–4409,www.monacosbakery.com].
Little Cupcake Bakeshop
Open since 2005, Little Cupcake Bakeshop brought a modern flavor to Bay Ridge's sweets scene. The store touts its ecologically-designed interior and grass-fed and organic ingredients sourced from tri-state area family farms, along with cupcakes in flavors like "Dreaming Princess," "Hummingbird," and "Mott Street." Also, check out the giant Rice Krispie treats and mini-cheesecakes.
[9102 Third Ave., at the corner of 91st Street in Bay Ridge, (718) 680–4465, www.littlecupcakebakeshop.com].