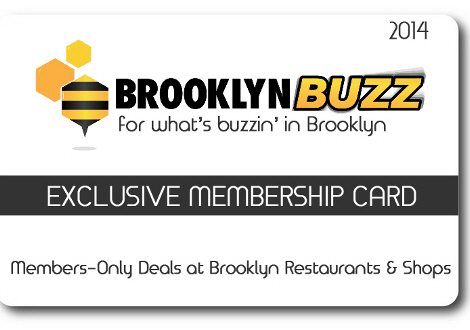 To start 2014 off right in Brooklyn, BrooklynBuzz.com is launching the Brooklyn Buzz Exclusive Membership Card in just a couple of weeks.  The Brooklyn Buzz Exclusive Membership Cards will get you access to Brooklyn Buzz events, discounts on restaurants and shops throughout Brooklyn, access to hot Brooklyn events and a lot more.
BrooklynBuzz.com Newsletter Subscribers will be the first to know when the card is available and you will be informed on how you can get your card for Free.  Partners include restaurants, wine shops, fitness centers and more.  We are super excited, and you should be too.
Subscribe to the Brooklyn Buzz Newsletter to be among the first to receive the Brooklyn Buzz Exclusive Membership Card.  Go to the BrooklynBuzz.com homepage and click the Stay in the Know image to Subscribe Today!