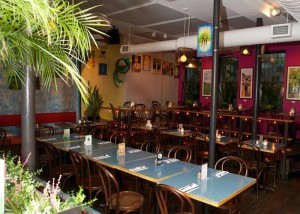 If you're looking for a restaurant that has an amazing vibe, awesome staff, delicious food and some of the best margaritas around….look no further than Bogota Latin Bistro in Park Slope!
The empanadas, for one, are incredible. I recommend the sampler and cutting them in half to share. The Shredded Chicken has great spice, and is another favorite! Dip in any of the sauces the empanadas come with – they all taste great with the spicy chicken. Also, try the mashed plantains, if it's available. I wish they'd put it on the menu permanently.
For the vegetarians/vegans out there, you're not forgotten! Order the Chipotle Salad with Plantain Crusted Chicken. It always surprised me when I go to a restaurant and have a really great salad. This combination of avocado, feta cheese, diced egg, red onion, tortilla strips is great. Add the Plantain Crusted Chicken, which is delish all on its own, and drizzle on some chipotle dressing and you have a killer salad. The chicken especially is something special. The plantains give it this incredible crunch.
As mentioned briefly above the atmosphere is just great here… the place is so inviting, and so lively! I love the bright and colorful walls, the twinkle lights and the enclosed patio in the back. The staff has always been great too.
Bonus: I found out recently that they added $3 empanadas to the happy hour menu. Yes! Looks like I don't need to wait for another event to return for another awesome meal at Bogota.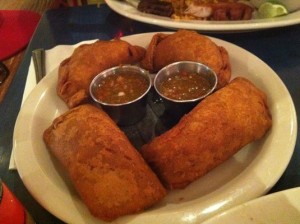 Bogota Latin Bistro
141 5th Ave
b/n Lincoln Pl & St. John's Pl
(718) 230-3805
bogotabistro.com