February 1-28 at Myrtle Avenue Brooklyn Partnership
The Myrtle Avenue Brooklyn Partnership is celebrating with their 3rd Annual Black Artstory Month, under this year's title of "Where I'm From: The Black Artstory of Myrtle and Beyond." The month-long series of free art exhibits, performances, film screenings and more in Fort Greene, Clinton Hill and Wallabout, Brooklyn will explore themes of time, travel and transition by over 25 Brooklyn-based artists celebrating the neighborhood's rich African American history.
Black Artstory Month tells the stories of cultural pluralism not only of African Americans but also of other populations that live in the same neighborhood. The art and remembrance will come in all sorts of forms. This Saturday's (February 7) musical look at "Young Dublin," the intersection of the large Irish and African American populations in the late nineteenth century in present-day Fort Greene to tours of the Navy Yard's BLDG92 to a look at the lives of black female artists who led the black Brooklyn renaissance of the 1980s and 90s.
Beyond the schedules events, you can also use this map for a self-guided artwalk tour down the Myrtle Avenue Corridor.
February 1–25
Black History Month Events at Brooklyn Historical Society
Among the highlights of Brooklyn Historical Society's Black History Month events are screenings of The African-Americans: Many Rivers to Cross (February 5) and Brooklyn Boheme (February 1, 8, 15 and 22), a book talk on the Underground Railroad with Eric Foner (February 17) and a lecture by Wes Jackson and Albert Johnson about the interactions between hip-hop and the literary world (February 25). For more info, visit brooklynhistory.org.
February 7
First Saturday at the Brooklyn Museum
The museum's monthly free Saturday night of music, film and other public programming follows a Black History Month theme in February. Among the highlights are music by Bilal and Water Seed; screenings of Black Enuf, The Peculiar Kind and Soul Food Junkies; and discussions with Kim Drew, founder of the blog Black Contemporary Art, and renowned spoken-word artist J. Ivy. For more info, visit brooklynmuseum.org.
February 14
Feraba African Rhythm Tap Duet at Brooklyn Public Library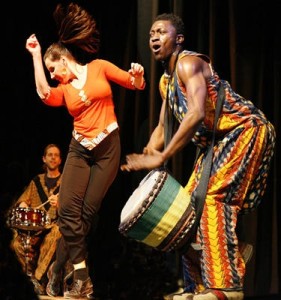 Let's dance together, let's drum together, let's sing together with Feraba. Join Ibrahima Kolipe Camara, a native from Guinea, West Africa and Irene Koloseus, dancer and choreographer as they celebrate Black History month. The two perform dances, rhythms and songs from Guinea as well as honoring tap dance – an art form – created in America. Learn how American tap dance has its roots in African music and dance.
Join the fun during this highly interactive performance! African "shakers" and small drums will be provided for toddlers, youngsters, and their families.
Events for Youth & Families are made possible through generous support from the Estate of Pearl S. Reuillard in memory of her parents Yetta and Louis Schwartz.

February 28
Black History at Green-Wood Cemetery
Although segregation was an issue in New York City, both Brooklyn and NYC as a whole have had long histories of civil rights activism. This trolley tour showcases the accomplishments of many noted New Yorkers on that front. Among the highlights are the graves of Susan Smith McKinney Steward, the first female black doctor in New York State; the (Brooklyn-born) downtown artist Jean-Michel Basquiat; and Jeremiah Hamilton, New York City's first black millionaire.
Sources: brooklynmuseum.org, brokelyn.com, nyc-arts.org, nycgo.com