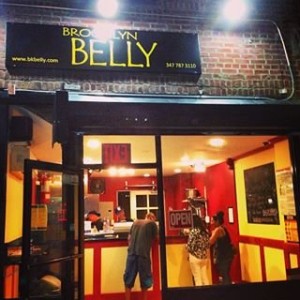 Ever wonder what happened to those cool kids in school who listened to reggae, wore Bob Marley t-shirts, and were so nice to everybody? They opened up a great place on Cortelyou Road that serves up delicious fried fish, conch, and jerk chicken. They're not trying to be all things to all people, and they don't seem interested in building out a billion-dollar franchise. They're simply about fried fish and chips, mostly at the dinner hour, for takeout and delivery in the neighborhood. They do this one thing reliably well – and they're still just as nice.
If I wasn't afraid of what my cardiologist would say, I'd eat here every week. But once every few weeks is enough for my fix of fried whiting and french fries from these guys. There are a few secrets to making good fried food – really hot oil, a lightly-seasoned batter, and a serving method that soaks up excess oil to keep everything from getting soggy. The folks at Brooklyn Belly understand these secrets really well. They never mess it up, and they're relaxed and friendly both when taking your order and in ringing it up. But make sure you allow plenty of time, whether you're picking it up or having it delivered – because, as in the Caribbean (to paraphrase the Huffington Post), time in this place is a concept, not a dictator. Give them enough time to get it right, and they will.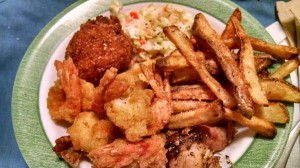 They only take cash, but the food is delicious. The mac & cheese balls are an amazing treat. Want some real fries? These guys will grab a potato, chop it up and throw it in the fryer. The jerk chicken is seasoned perfectly. Get it on the thick dough bread with some homemade cole slaw, which perfectly balances the spice.
The fried cod basket or the fish and chips are total game-changers! The homemade batter is amazing and the cod simply melts in your mouth. Have the shrimp fried, grilled or steamed. The jerk or BBQ wings will both hit the spot. If you can't handle the jerk but still want them on the spicy side, try them HYBRID! You won't find it on the menu, but you can order all the chicken hybrid to give you a sweet and spicy delight. Almost everything is made on premises, including the spice mayo, lime-aid (which sells out every 2 days), tartar sauce, and cole slaw. Chicken and fish are bought DAILY. The only thing they don't make is probably the ketchup!
The owner, who is also the cook, is there every single day. Customer service is top-notch. They're open late, until 2am Thursday thru Saturday. Dancehall music builds the atmosphere on top of the amazing smell of the place. Once you eat here once you will eat here whenever you don't feel like cooking, especially since everything is made to order.
Brooklyn Belly
915 Cortelyou Rd
b/n Coney Island Ave & 9th St
(347) 787-3110
bkbelly.com