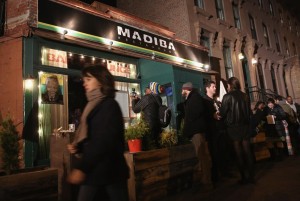 Madiba's Fort Greene location (there's one in Harlem as well) serves up South African food in a colorful low key environment. While I have never been to South Africa, and I have no idea what authentic is or is not, I can say that Madiba is worth visiting if you like flavorful spices and creative mixed drinks.
The restaurant is named after the late Nelson Mandela, whose clan name was "Madiba".  The clan or family name represents a person's ancestry. The meaning is deeper than a surname and is used as a sign of respect and affection. The origin of Madiba comes from a chief who ruled in the 18th century. The restaurant's owners Mark and Jenny Henegan opened this location in 1999 to share their rich South African heritage and pay homage to their hero.
I have ordered a few things on the menu. I would recommend the Seared Wild Salmon. The Fish Parcel is tasty fried seafood goodness, a la fish and chips, but with a tasty spicy tartar sauce instead of the malt vinegar. The Meal in a Pie is smaller than you'd expect, but filling and savory. The Amagwinya is a sandwich (samie) with minced meat and fried crispy chewy bread. The Durban samosas are tasty, but quite small.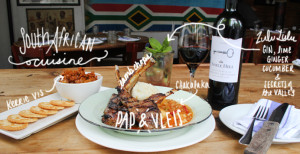 I usually never have to wait long for a table. The place is very tightly packed however, so bringing a group is a bad idea. The service is friendly and low key, and always helpful. Price point is reasonable for the neighborhood, although portions are a tiny bit slim.
Perks
If you check in on Foursquare, you get 10% off your Madiba bill! Also, if you link your debit/credit card to Foursquare, you can get $4 off your statement.
Madiba Restaurant
195 Dekalb Ave
Brooklyn, NY 11205
b/n Carlton Ave & Adelphi St in Fort Greene
(718) 855-9190
madibarestaurant.com