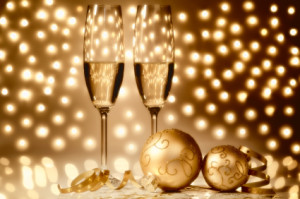 1. A Very Special Holiday Haunting Renditions with Eliot Glazer 
Tuesday, December 16, 8:30pm
Bell House, 149 7th Street
$10 in advance/$12 at the door
What happens when a classically trained Jewish vocalist-turned comedian turns Christmas Carols into ridiculous sweeping ballads? We don't know, but can't wait to find out. Eliot will be joined by special guests Milk, from RuPaul's Drag Race, and Ilana Glazer of VH1′s Broad City, who also happens to be Eliot's sister. This event just might make you want to grab a sibling and the nearest drag queen and start preparing your holiday cabaret for December 2015.
2. We know you're busy people, so see some FREE power comedy and eat $1 tacos at Get to the Point! (Tuesday, December 16)
3. Take a look at what the kids are wearing these days at the FREE book launch of What My Daughter Wore. (Tuesday, December 16)
4. Hear some FREE jazzy-funk and some indie rock at The Way Station. (Wednesday, December 17)
Wasabasco Burlesque's '70′s Christmas Carol
Thursday, December 18, 8pm
Bell House, 149 7th Street
$20
Enjoy the funky take on this holiday classic by Nasty Canasta and Charles Dickens "about miserly nightclub owner Scrooge and the ghostly visitations and spectral stripteases that teach her the true meaning of Christmas: sweet lovin' under the disco ball." No further explanation needed.
6. Get some crafty gifts for your crafty friends at Makeshift Society's Holiday Mixer and Market for FREE. (Thursday, December 18)
7. Do you know a lot about snowmen? No? Well wing it anyway at Three Jolly Pigeon's "You don't know Jack…Frost" trivia night for FREE. (Thursday, December 18)
8. It's Sooo Up & Coming is turning a year old, so celebrate the second most important birthday this month at 739 Franklin for FREE. (Thursday, December 18)
9. Give the awful holiday specials of your favorite shows the love they deserve with the help of some comics at Videology's The Holiday Episode: A Comedy Clips Show for FREE. (Thursday, December 18)
10. Generate some energy with your quads by pedaling on the at the Brooklyn Museum's Human Energy Hub bicycle installation for FREE. (Thursday, December 18)
11. If the FREE art's not enough incentive to get you to check out Fuck A Genre Entertainment's art show, hopefully the FREE open sangria bar will. (Thursday-Friday, December 18-19)
12. How Wine and Sleaze Saved Chrimbus
Friday, December 19, 10 pm
Backyard Restaurant & Bar, 388 Fifth Avenue
FREE
Sponsored by Magic Hat, this stand-up comedy event features holiday-themed comedy from Paul Ashey, R. Alex Murray, Amanda Van Nostrand and other special guests. Magic Hat will also host an Ugly Sweater Fashion Show, which boasts a $100 Ticketmaster gift certificate. Plus, find Sleepy the Gnome hidden somewhere in the restaurant and also enjoy $1 drinks all night.
13. Big Gay Country Holiday
Friday, December 19, 8pm
Littlefield, 622 Degraw Street
$8 in advance/$10 at the door
Be sure to don you now your gay apparel for this holiday concert showcasing the musical skills of Julia Weldon, Karen & the Sorrows, Small Talk, and Kings.
14. Get your snappin' fingers ready and head to Roots Café for some FREE poetry readings. (Friday, December 19)
15. Harry and the Potters Present The Yule Ball
Sunday, December 21, 6:30pm
Bell House, 149 7th Street
$20
What's a ball without music? Hear the hit tunes from Harry and the Potters, Tonks and the Aurors, and Lauren Fairweather of the Moaning Myrtles, plus an appearance by the Potter Puppet Pals. $5 from every ticket sold will go toward The Harry Potter Alliance. As much as we were hoping that was a Hogwarts Scholarship Fund, it is actually a non-profit that makes activism accessible for young people by using Harry Potter books as a guide to discussing pressing issues of social justice (but maybe it's really a front for the Hogwarts Scholarship Fund).
16. Wander Winter Solstice Concert
Sunday, December 21, 11am
Brooklyn Botanical Garden
FREE (Garden admission also free until 11am)
Celebrate winter with Make Music New York. Meet at Magnolia Plaza to take a musical stroll as the performance migrates throughout the garden. Baritone Christopher Dylan Herbert presents Schubert's 1828 song cycle Winterreise (Winter Journey). Bonus experiment: find out if classical music really does help plants grow!
17. Brooklyn Symphony Orchestra Holiday Concert
Sunday, December 21, 2pm
Brooklyn Museum, 200 Eastern Parkway
$20
Performing in the Iris and B. Gerald Cantor Auditorium on the third floor, the Brooklyn Symphony Orchestra will be playing familiar holiday songs, such as Sleighride, under the artistic direction of Nicholas Armstrong.
18. Dave Harrington and Friends Holiday Spectacular!
Sunday December 21, 8pm
Glasslands, 289 Kent Avenue
$10 in advance/$12 at the door
You may still be in denial (and understandably so), but here's a reminder: this will be one of your last chances to catch a show at Glasslands. Join PopGun Presents and Dave Harrington of Darkside for holiday music featuring members of Bear in Heaven, Real Estate, The Antlers, Dirty Projectrs, and many more. A house band will also be present and DJ sets from the likes of Valentin Slip, and others. All proceeds to benefit the Harlem School of The Arts, so do it for the children.
19. Low Budget Sketch Show Presents A Special Christmas Special
Sunday, December 21, 7pm
Videology, 308 Bedford Avenue
FREE
Enjoy an evening of holiday videos, most notably a screening of Low Budget Sketch Show's Special Christmas Episode. There will be live sketch comedy as well from some of New York's best-loved sketch comedians. Sounds pretty sketchy to me.
The Salt Cracker Crazies Play Emmet Otter
Monday, December 22, 8pm
The Way Station, 683 Washington Avenue
FREE
Join The Salt Cracker Crazies, The Way Station's resident jug band (because who doesn't have a resident jug band?) to celebrate the music from one of the most adorable Christmas special's of all time. Emmet Otter's Jugband Christmas, a reimagining of The Gift of the Magi told by Muppets, includes timeless favorites like "There's a Hole in the Washtub" and "When the River Meets the Sea." The event is free, so you don't even have to sell your supply of snake oil to shell out for a ticket.
21. All Day Christmas Movies
Tuesday, December 23, 4pm – close
Videology, 308 Bedford Avenue
FREE
FREE CHRISTMAS MOVIES. ALL DAY. It's like you've died and gone to heaven, but you're not really dead, you're just learning what life would be like if you had never been alive at all!
22. Dr. Who Christmas Special
Thursday, December 25, 8pm
The Way Station, 683 Washington Avenue
FREE
Because if you don't have anything else to do on Christmas, you're probably watching Dr. Who anyway.
23. Kwanzaa Family Celebration
Saturday, December 27, 11:30am – 1pm
Cumbe: Center for African and Diaspora Dance, 558 Fulton Street
$10 (for the whole family, up to five people; $2 for each additional family member)
December 27th is the second day of Kwanzaa, Self-Determination. Learn the history and seven principles of celebrating Kwanzaa though song, dance, and a special candle-lighting ceremony. Refreshments and plenty of culture provided.
However you celebrate, have a wonderful holiday season!
Source: brokelyn.com