This ancient and venerable soul food spot has flourished despite the gentrification of the neighborhood all around it, and is a palace of great fried chicken, mac and cheese, ribs, smothered pork chops and, yes, chitterlings. The reason? The food is excellent and the prices cheap!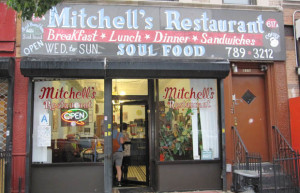 Named one of the Best NYC Southern Comfort Restaurants for Families by CBS New York, is no frills dining at its best.
Offering up a collection of simple and traditional southern dishes, Mitchell's has their own personal unique laid-back approach to dining.
When approached over learning they had the distinction of being singled out by CBS New York, the owner Johnsie Mitchell was indifferent, saying she had received a call from a regular informing them, but seemed completely unfazed by any accolade.
One can see why they act so nonchalant; Mitchell's doesn't need press to attract business because the food speaks for itself.
Planting its roots in Prospect Heights in the mid-1970s James "JB" Bromell (the waiter who also doubles as a cook) detailed Mitchells beginnings as a short order grill with such offerings a newspapers, eggs, hamburgers and sandwiches. It wasn't until 1978 JB said that chef and owner Johnsie Mitchell expanded to a full-fledged restaurant offering her own approach to traditional and delicious rich southern favorites.
The storefront is tiny (five tables, three stools), and the staff small. But even with their minute idiosyncrasies (cash only, nearly non-existent attention to diners, unavailable bathroom, etc.), their food makes it worth a stop.
The main dishes are made to order, so be prepared to wait. Specialties of the house include their signature fried chicken, fried catfish, smothered chicken dinners, chitterlings, braised oxtails and intensely flavorful macaroni and cheese, black eyed peas, and collard greens.
The prices are incredibly affordable: sandwiches range from $4 to $6, sides are $3, and dinners, which includes two sides and corn bread range from $7 to $11.50.
Mitchell's decor is a throwback to (a variety of) earlier times with a pre-war tin ceiling, reclaimed Burger King tables, and chandeliers. Decorated with abstract and impressionist Southern paintings depicting various dining and musical scenes, the only thing that seems to have changed since the 1970s is a fresh coat of paint.
You don't have to go to Harlem to get your soul food fix; Mitchell's has Prospect Heights covered.
Mitchell's Soul Food, 617A Vanderbilt Avenue (between Bergen Street and St. Marks Avenue), 718-789-3212.
Open Wed-Thurs. 10am-10pm, Fri. 10am-10:30pm, Sat. 12pm-10:30pm. Closed Sunday and Monday. Free delivery available until 9pm.