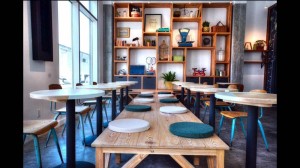 Finding this place came out of endless lines from surrounding brunch venues. Once there, it was impossible to leave. Large glass windows fill this café with great light even on a cloudy day. It makes for a phenomenal place to work – free wifi, plenty of seating and pleasant music. Run by a super sweet couple (Inna and Eldad), it's surprising that Re.union Café has only been open for a few months. Head over to the counter and begin picking your brain on a menu that makes everything sound good, especially the soup, sandwich or meal of the day.
The Potato Leek Soup was incredibly popular but I managed to snag the last bowl . Mmm. Spices were just right. Hits the spot on a cold day. I also went with the Shakshooka, which everyone apparently raves about – and now I see why. It was really tasty, served with a chunk of baguette, yogurt and an Israeli salad. Normally I don't care about salad (especially at brunch), but this one was SO good! Fresh and flavorful.
Try the Fancy Cheese Sandwich with bacon and tomato jam, a gooey center with crispy bacon and toast. The large cut of bread makes you savor each bite slowly, almost like stopping to smell the roses, except it's delicious bacon and cheese. Also try the Cortado, smooth and delicious. They serve Stumptown coffee and cold brew. Plus – A NUTELLA PANINI!!! Dessert for lunch, anyone?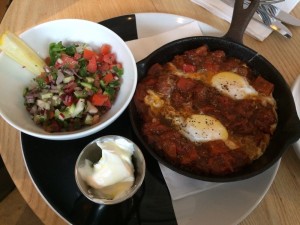 Re.Union Cafe
544 Union Ave b/n Withers & 10th Streets in North Williamsburg (718) 599-3670
reunionyc.com