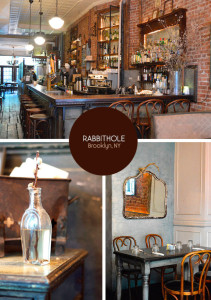 I love cafés like The Rabbithole. Simple, comfy, relaxing, with a vibe of a garden bistro. There's backyard seating, but the dining area is very cozy. Enjoying breeze from patio doors (they might be closed now due to the cold and all), light talk going on with few laughs – nothing can be better. This place is perfect for a relaxing evening.
There are nicely done drinks with a few daily specials. The Black Margarita is one of those – mezcal, hornitos, lemon and blackberry syrup – who can say no to good mezcal? Now, let's talk food. There are 2 things that you must try on the menu (although the food here is amazing overall). First, the Lamb Burger. It is absolutely delicious! The burger itself cooked perfectly, topped with smooth, tangy and salty mix that is feta and yogurt based on a perfect, slightly toasted house-made bun. All that served with side of cucumber mint ribbons and other side of your choice (fries were yum!)
Next, the Hangar Steak. The Hangar Steak comes draped in garlic butter (for some reason draping butter and garlic on stuff is getting popular), along with lemon oil, fingerling potatoes and grilled broccoli. Of course, The Rabbithole is also famous for its brunch game, which also features a solid steak and eggs for only $13. Service is super-fast and on point. It's a great local spot for lunch, brunch, dinner or whatever else you want to call it.
The Rabbithole
352 Bedford Avenue, Williamsburg
b/n 4th & 5th Streets
(718) 782-0910
rabbitholerestaurant.com