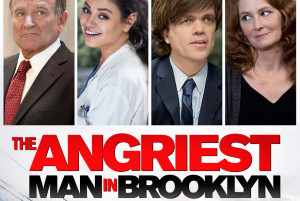 If you're a cinephile and a true Brooklynite, you'll enjoy these 21 films with "Brooklyn" in the titles! Which have you seen? Which are your favorites?
A Tree Grows in Brooklyn (1945)
Encouraged by her idealistic if luckless father, a bright and imaginative young woman comes of age in a Brooklyn tenement during the early 1900s.
Once Upon a Time in Brooklyn (2013)
After being released from prison, Bobby goes back to the mob connected streets. When forced to make a life altering decision the truth is revealed that he was too blind to see.
Vampire in Brooklyn (1995)
Maximillian is the only survivor from a race of vampires on a Caribbean Island, and as a vampire, he must find a mate to keep the line from ending. He knows that a child had been born to a woman who had a vampire father, and he searches for her in Brooklyn. Rita's mother, who has died in an asylum, was that woman and Rita has nightmares that she does not understand. Not knowing that she is part vampire, Max woos her and attempts to bring her to her blood sucking destiny. Even though Rita has strange dreams and actions, Justice, her partner, has feelings for her and does not want her involved with this stranger Max. But it is Rita who must decide her destiny.
A Brooklyn State of Mind (1998)
Al Stanco has lived all of his life in Brooklyn and does some work for the local crime lord, Danny Parente. New to the neighbourhood is Gabriela, a filmmaker shooting a documentary on the real Brooklyn. Al and Gabriela become friendly but the relationship is strained when he discovers her true goal is to expose Parente's criminal activities. When Al sees the evidence Gabriela has uncovered, which implicates Parente in the death of many locals (including Al's own father), he seeks revenge in a dangerous confrontation with his boss.
Brooklyn Babylon (2001)
A charismatic rapper falls in love with a young Jewish girl despite the confines of her religious background.
The Angriest Man in Brooklyn (2014)
A perpetually angry man is informed he has 90 minutes to live and promptly sets out to reconcile with his family and friends in the short time he has left.
Straight Out of Brooklyn (1991)
A young man living in poverty makes a plan to rob a drug dealer and change the life of his family.
It Happened in Brooklyn (1947)
Danny has been in the army for 4 years, yet all he thinks about is Brooklyn and how great it is. When he returns after the war, he soon finds that Brooklyn is not so nice after all. He is able to share a place with Nick, the janitor of his old High School, and get a job as a singer in a music store. He also meets Leo, a talented pianist and his teacher Anne, whose dream is to singing Opera. When Jamie arrives from England, Danny tries to show him the Brooklyn experience and help him compose modern swing music. Together, these four also try to help Leo get the Brooklyn Music scholarship.
Over the Brooklyn Bridge (1984)
A Jewish man who owns a Brooklyn deli asks his domineering uncle for a loan so he can buy his dream restaurant in Manhattan, but the uncle demands that he give up his Gentile girlfriend even though she's one of the few sources of stability in his somewhat chaotic life.
Whistling in Brooklyn (1943)
Radio crime show host "The Fox" finds himself on the trail of a serial killer while a suspect himself.
Last Exit to Brooklyn (1989)
Set in Brooklyn during the 1950s against a backdrop of union corruption and violence. A prostitute falls in love with one of her customers, and a disturbed man discovers that he is homosexual.
Brooklyn Bridge (1981)
This documentary chronicles the world-famous Brooklyn Bridge in New York City. The difficult construction process is described in interesting detail; later parts of the film interview current notables who describe the effects that the Brooklyn Bridge has had upon New York society and beyond.
Brooklyn Castle (2012)
Amidst financial crises and unprecedented public school budget cuts, Brooklyn Castle takes an intimate look at the challenges and triumphs facing members of a junior high school's champion chess team.
Battle for Brooklyn (2011)
'Battle for Brooklyn' follows the story of reluctant activist Daniel Goldstein as he struggles to save his home and community from being demolished to make way for the densest real estate development in U.S. history. Along the way, he falls in love, gets married and starts a family while living in an abandoned building located at the heart of the project site. Over the course of seven years, Daniel and his community fight tenaciously in the courts, the streets, and the media to stop the abuse of eminent domain and reveal the corruption at the heart of the plan.
Brooklyn Lobster (2005)
Giorgio's Lobster Farm has been a tradition in Brooklyn for over 65 years. Manned by an eccentric crew and serving the best seafood in the state, the renowned establishment now faces grave financial troubles. The Giorgio family must find a way to hold on to the business or risk losing the cornerstone of their identity. Under pressure, each member of the family is forced to take a new tack in their personal relationships.
Brooklyn Rules (2007)
Brooklyn, 1985. With the mob world as a backdrop, three life-long friends struggle with questions of love, loss and loyalty.
Brooklyn's Finest (2009)
Three unconnected Brooklyn cops wind up at the same deadly location after enduring vastly different career paths.
The Case Against Brooklyn (1958)
When a reporter claims that New York police are on the take letting the mob run its horse parlors at will, a shocked District Attorney Michael Norris decide to do something about it. Not knowing who can be trusted on the force, he turns to recent police academy graduates to go undercover and find the corrupt cops. Among them is Pete Harris, a 10 year Marine Corps veteran. His focus is on Lil Polumbo, recently widowed after her husband Gus' truck ran off the road. Rumor has it that Gus was heavily in debt to the mob and killed himself so his wife could collect on his insurance. When the mob learns that Harris is a cop, they try to kill him but it doesn't go as planned and kills someone close to him instead. Pete decides to get the killers at any cost.
'Neath Brooklyn Bridge (1942)
The East Side Kids find a young girl in the apartment of a man who has just been murdered. Believing her to be innocent, they hide her in their clubhouse while they try to find the real killer. The killer, however, used a baseball bat as his murder weapon, and the bat has the fingerprints of one of the gang on it.
Texas, Brooklyn & Heaven (1948)
A would-be playwright and a young woman escaping from a job at a gas station meet cute and fall in love.
The Kid from Brooklyn (1946)
Shy milkman Burleigh Sullivan accidentally knocks out drunken Speed McFarlane, a champion boxer who was flirting with Burleigh's sister. The newspapers get hold of the story and photographers even catch Burleigh knock out Speed again. Speed's crooked manager decides to turn Burleigh into a fighter. Burleigh doesn't realize that all of his opponents have been asked to take a dive. Thinking he really is a great fighter, Burleigh develops a swelled head which puts a crimp in his relationship with pretty nightclub singer Polly Pringle. He may finally get his comeuppance when he challenges Speed for the title.