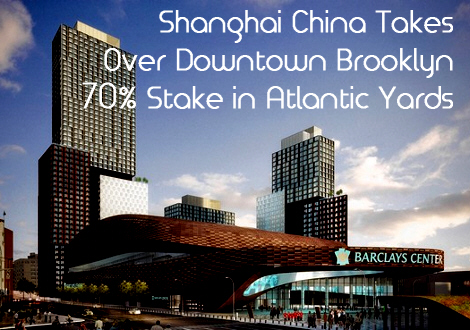 As reported by the Commercial Observer, Greenland Holdings Group, a Chinese state-owned developer and Forest City Enterprises have completed an agreement in which the Chinese developer will take over 70% ownership in the Atlantic Yards.  The joint venture includes phases one and two of the project which is next door to the Barclays Center.
Forest City Ratner Companies will manage day to day activities, but Greenland will be the majority owners of the project.  The residential project will feature over 6,000 apartments, covering 22 acres.
Forest City Ratner previously made a big splash about purchasing the NJ Nets and bringing the team to Brooklyn (Brooklyn Nets) as part of the overall development of the downtown Brooklyn strip along Atlantic Avenue.  The Ratner Group has since sold the Nets to Russian billionaire Mikhail Prokhorov.  So now the Brooklyn Nets are owned by Russia and the property is owned by China.  Makes you want to say hmmmmmmm….