15jun10:00 am6:30 pmArtichoke Dance Company presents Gowanus Visions: A Festival of Art and Action10:00 am - 6:30 pm Gowanus Waterfront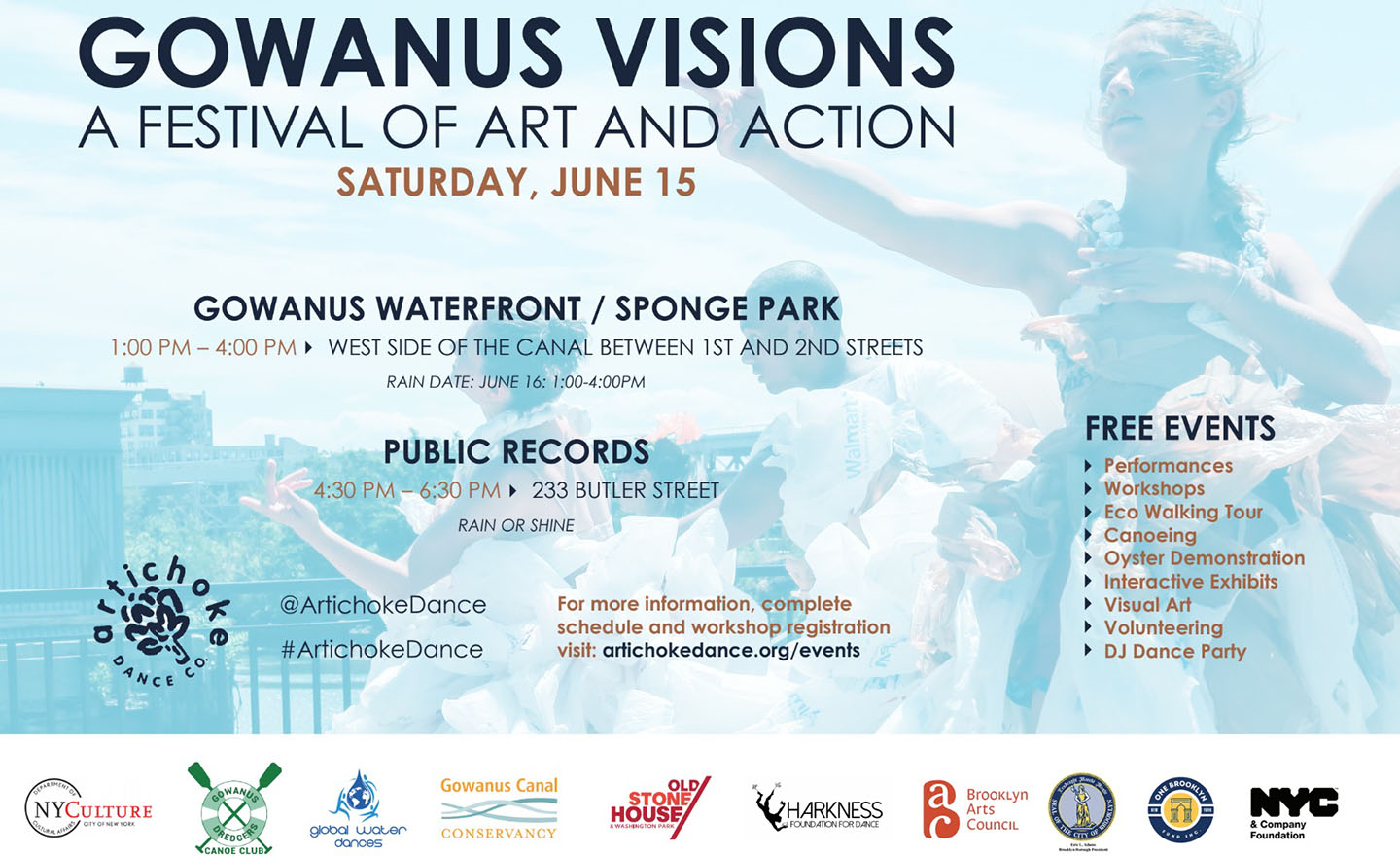 Event Details

Gowanus Visions: A Festival of Art and Action occurs June 15
along the Gowanus Canal featuring performances, interactive and educational
activities, volunteering and a DJ dance party. All events are free and all are
welcome.

Gowanus Waterfront/Sponge Park (west side of the canal
between 1st and 2nd Streets)

10am-1pm: Clean and Green Volunteering

1:00pm: Eco-tour of the Gowanus Canal and Dance Workshop

2:00-3:30pm: Performances by Artichoke Dance, Gowanus
Wildcats, FUREEOUS Youth, Murrow High School, and more

3:30: Oyster demonstration

1-4pm: Canoeing, Visual Art Exhibits, Interactive and
Educational Activities

Rain date for the above activities is Sunday, June 16, same
times and place.

Public Records (233 Butler Street)

4:30-6:30pm: DJ Dance Party, featuring top ecological DJ's.

Rain or shine

In addition to the festival day, Artichoke Dance is also hosting
a free workshop series in dance and trashion (fashion made from recycled
materials/trash) in May and June for community members to participate in an
international movement initiative, Global Water Dances, and the March for the
Ocean at Coney Island. More information and workshop registration.

Background:

Gowanus Visions is produced by Artichoke Dance Company, a
national leader in arts eco-activism. Global Water Dances is an international
platform to raise awareness of water issues and advocate for access to clean
water worldwide. The Gowanus Canal was given Superfund status by the US
government because it is one of the most polluted waterways in the United
States. Artichoke Dance Company is committed to upcycling materials for sets
and costumes using single use plastics, which clog waterways and endanger
marine and human life.
Time

(Saturday) 10:00 am - 6:30 pm
Location

Gowanus Waterfront