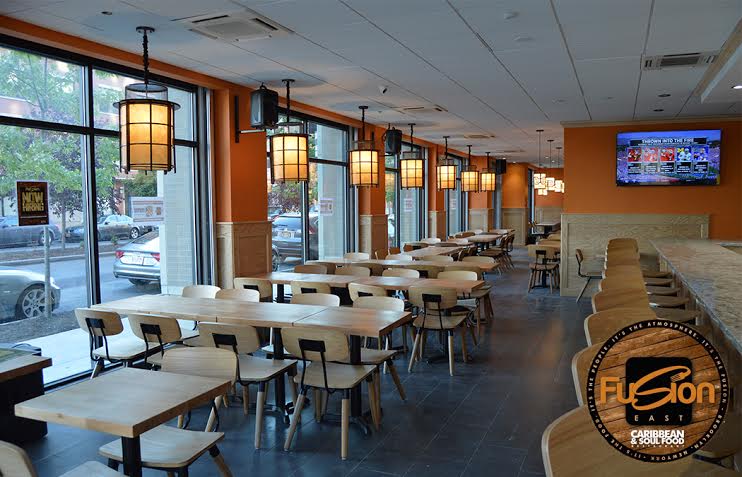 Conveniently located between JFK and Gateway Center Mall comes a restaurant developed from East New York roots. Fusion East, opening later this month, brings together the savory flavors of the Caribbean with the vivid richness of soul food. Conceived by two longtime East New York residents, the restaurant is set to be East New York's first high-end eatery. Fusion East stands as an avid representation of East New York's large Caribbean and African American Community, creating a new hotspot where both the neighborhood and its visitors can go to eat, relax and have fun. With a delicious menu, bringing both classic and modern Caribbean and Southern dishes together, patrons can enjoy Sunday brunch with unlimited mimosas, screwdrivers, bloody or tequila Mary's. The eatery also serves up a side of regular live entertainment, multiple flat screen TV's, and a full-service bar.
"Food for thought," comments AG White, an East New York comedian and head of Marketing and Promotion, "We are from here, by here and about here, and we are super-excited that Fusion East has come to fruition."
Inspired by the traditional blendings of Asian cuisine, and Influenced by the foods of his childhood, owner Andrew Walcott moved to show the culture of East New York to both the residents and to the neighborhood's visitors and critics. Labeled as one of Brooklyn's poorest and most dangerous neighborhoods, East New York has been undergoing positive changes for the last few years, including a rise in community-owned organizations, the popularity of the Gateway Center Mall, and the building of the Gateway Elton Street affordable homes.
"East New York is on the rise and Fusion East will be a key part of the renaissance," expresses Walcott, an Air Force veteran. Upon returning from service to his childhood neighborhood, Walcott obtained his CPA with the aid of the GI Bill, and later became a successful attorney. Walcott has served on the East New York Community Board for twenty years and now has plans for Fusion East to further benefit the neighborhood.
As part of the East New York renaissance, Fusion East is already giving back to the community which created it. The restaurant's participation in the East Brooklyn Outdoor Events included sponsoring and tabling at the East Brooklyn Outdoor Jazz Festival on August 29th, and the restaurant served an official water station for the East Brooklyn 5K Run/Walk this past Saturday, September 19, 2015.
Along with it's chic decor, friendly atmosphere, and amazing food, Fusion East's entertainment will include Monday Night Football, live music from local and New York-based artists, spoken-word events, comedy nights, and showcases of new local art from ARTS East New York.
Fusion East aims to be a go-to destination for all of New York. "Instead of traveling all the way to Harlem for soul food, travelers from JFK will be able to come here instead," Walcott explains. The eatery plans on bringing up neighborhood revenue by attracting tourists and visitors. The restaurant's hours, open from 11:00 am to 11:00 pm, and open stage, also make it a great venue for private events.
Located at 1179 Elton Street, Fusion East opens late September 2015. So, whether you're a long-time resident or new to the East New York area, make sure to stop by, indulge yourself in the finest foods and enjoy.  Check back for the exact Grand Opening date, or contact Fusion East at 718-975-5065 or visit their website www.FusionEastNY.com