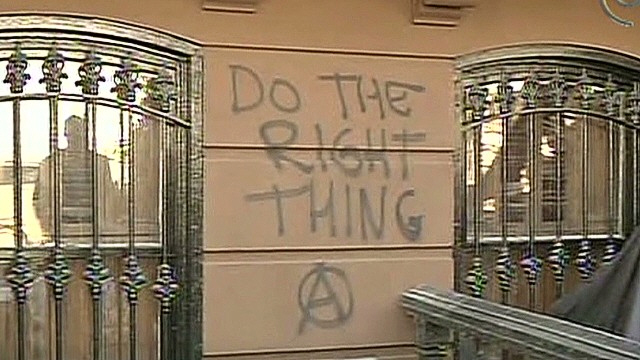 This week we posted about Spike Lee's remarks surrounding his frustration with gentrification in his old Brooklyn neighborhood of Ft Greene, where his father still lives. (Click Here for Spike Lee's Audio Remarks) Well, it looks like it obviously angered some of the people because the responded by vandalizing his father's home as well as the home of their next door neighbor, Dianne Mackenzie
According to CNN, Dianne Mackenzie, who has lived in the neighborhood for 17 years, said she discovered the vandalism on her Washington Park home Friday morning.  "All I know is that he made a lot of comments that went viral, the next day my house is vandalized," Mackenzie told CNN. "There is probably some kind of connection in the mind of whoever did this … There is no reasonable reason for it. If this person has got something to say, fine say it. Don't damage my property."
Arnold Lee, who lives with his father, defended his half-brother's right to rant about gentrification but took issue with Spike Lee's reference to the family's Fort Greene home.
"Say what you want but leave the personal stuff out of it," he told CNN Friday. "The moment you start going, 'Well, I live here,' and he doesn't live here. You know he lives in Manhattan so … this is my dad's house, and it's kind of personal."
He added, "Leave us out of it. Because I feel bad … my neighbor, she is a good friend.