This atmospheric South Williamsburg shop has decent Stumptown espresso & rotating French press offerings, with furniture built by the owner from reclaimed barn wood and found objects. Many plugs, good wifi.
The Breukelen Coffee House
(Coffee Shop) – 764A Franklin Ave at St Johns Pl 
The homegrown back room was built w/ laptop workers in mind – lots of tables, couches, chairs & plugs, although sometimes the wifi conks out. 
Café Edna
(Café) – 195 Nassau Ave b/n Russell & Humboldt St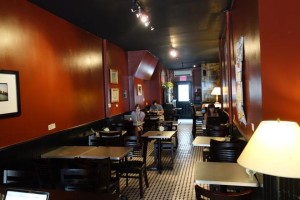 The old Cafe Royal has become Café 
Edna. Wifi is much improved, there are lots of plugs, and a full food menu. Coffee is courtesy of Toby's Estate. Great, quiet place to work.
This, the original branch of Cafe Grumpy, is a favorite spot for good coffee and getting work done. Lots of tables, a smattering of plugs, and sometimes overwhelmed wifi. Top notch baked goods.
Crosby Coffee
(Coffee Shop) – 667 Classon Ave 300 Bergen St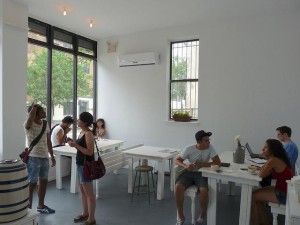 This aesthetically pleasing pure white shop belies the dark-roasted Caffe Vita coffee on offer. Free wifi & plugs are provided along with three large tables for working. Homemade sandwiches.
Inside Bushwick's Shops at Loom is a large, quiet coffee house with lots of tables, wifi, plugs & a grand piano, but inconsistent coffee via Brewklyn Grind. There's a large back deck for warmer days.
This kid-friendly Ditmas Park Stumptown shop makes the most of its triangular space, with lots of exposed brick, yellow accents, a wall of windows, free wifi, plugs, and lots of community events.
Occupying a former carburetor repair shop, Little Skips is an oasis in an aesthetically unappealing section of Bushwick. It's evolved into an attractive art-filled community center w/ wifi. Decent coffee.
Milk and Roses
(Wine Bar) – 1110 Manhattan Ave b/n Clay & Dupont St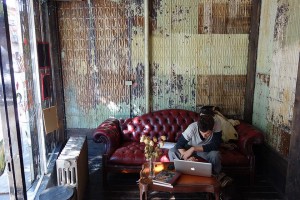 Lots of seating options, a backyard garden, free wifi, many plugs and gorgeous decor make this an excellent working spot. Skip the coffee, but the food's decent.
Serving 
decently-prepared 49th Parallel coffee from Vancouver, this El Beit spinoff is dark & usually crowded with laptop users. Plugs are covered by duct tape but wifi is solid. Lots of baked goods.
Propeller Coffee
 (Coffee Shop) – 984 Manhattan Ave Huron St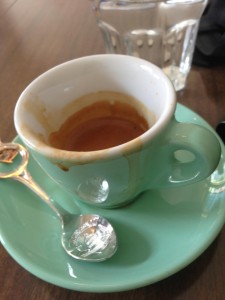 There are many coffee shops on Greenpoint's Manhattan Ave, but Propeller is one of the best places to work, with fast wifi, a few plugs, and a clean, spacious design with different seating areas.
Southside Coffee
 (Coffee Shop) – 652 6th Ave at 19th St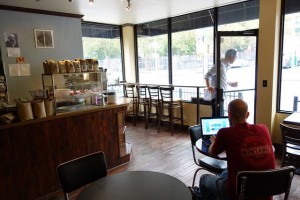 Owner-operated shop w/ rotating cast of coffee roasters and baked goods from their restaurant across the street. Coffee is consistently good and wifi is steady. Wall tables all have plugs.
Sit & Wonder
 (Coffee Shop) – 688 Washington Ave b/n Prospect Pl & St Marks Ave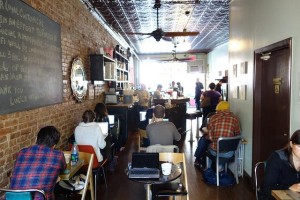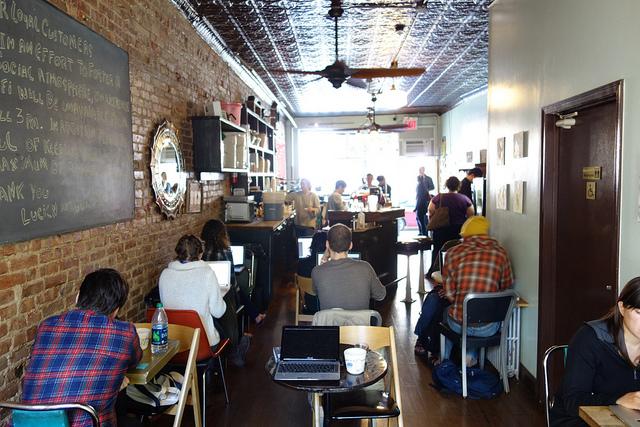 This Prospect Heights shop is always jammed w/ laptop users due to their wifi, plugs, plentiful seating, beautiful garden and baked goods. 
Sweetleaf
(Café) – 135 Kent Ave at N 6th St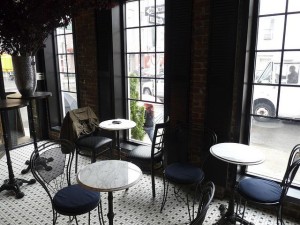 Inexplicably empty a lot of the time, this Williamsburg waterfront shop sports the best variety of different coffee roasters in Brooklyn, wifi, plushy seats, and a group of cafe tables near the window.
Variety Coffee Roasters
(Coffee Shop) – 146 Wyckoff Ave (Himrod)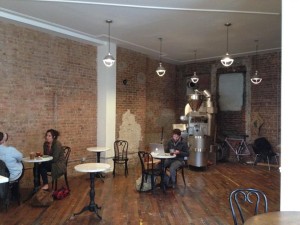 With 15 or so two-tops, a communal table, a smattering of plugs, and strong wifi, this is a good spot to work. High ceilings, open space, exposed brick, and an ongoing roasting concern.