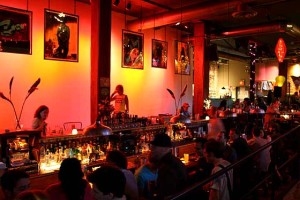 SUPERFINE: Superfine is built into the kind of sprawling ex-warehouse space that reminds you, hey, they're in Dumbo. The spacious digs are put to good use, offering separate areas for bar, restaurant, pool tables and the occasional live music act. The bar can get a little cramped with an after-work crowd, but grab a fancy grilled cheese ($14) or seasonal special to tide you over until things settle.
Superfine is located at 126 Front Street between Pearl and Jay Streets in DUMBO, Brooklyn (718-243-9005).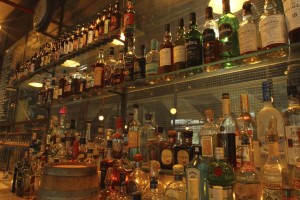 SPRITZENHAUS: Don't call it a beer garden—this massive beer hall on the border of Williamsburg and Greenpoint clocks in at more than 6,000 square feet, with 25-plus German-style beers on tap and a menu of sausages and pretzels to keep you fortified. There are picnic tables aplenty (inside, so Jack Frost doesn't nip your nose), plus Jenga for entertainment.
Spritzenhaus is located at 33 Nassau Avenue between Banker and Berry Streets in Greenpoint, Brooklyn (347-987-4632, spritzenhaus33.com).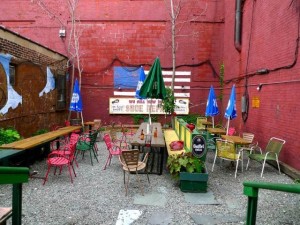 (Hugh Merwin/Gothamist)
BROOKLYN ICE HOUSE: In addition to boasting one of the best backyards in the bar business, this Red Hook spot serves up a super-long, satisfying happy hour deal, with a buck off all their already-cheap drinks from noon until 8 p.m. on weekdays. Once you've made your way through Brooklyn Ice House's extensive brew list, you can kick back with a plate or two of their pulled pork sandwiches that run two-for-$5 all night long, plus there are always $4 to $5 beer-and-shot specials to keep the fun going long after the happiest hours come crashing to an end.
Brooklyn Ice House is located at 318 Van Brunt Street between Pioneer and King Streets in Red Hook, Brooklyn (718-222-1865).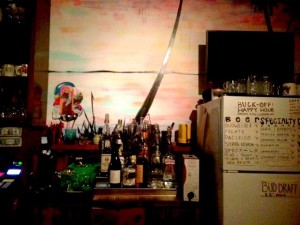 HAPPYFUN HIDEAWAY: We can't heap enough praise atop this laid back Bushwick bar, which is wonderful enough to serve Franzia and Frito pie alongside grown-up drinks and vegan pork sliders. Happy hour runs from 4 p.m. to 7:30 p.m. and warrants a buck off all drinks, not to mention a $5 cocktail special that changes daily. Grab your drink of choice (CHOOSE FRANZIA) and head to the bar's patio out back, where you can lounge under an umbrella and imbibe in blissful peace.
Happyfun Hideaway is located at 1211 Myrtle Avenue near Willoughby Avenue in Bushwick, Brooklyn (917-999-8282).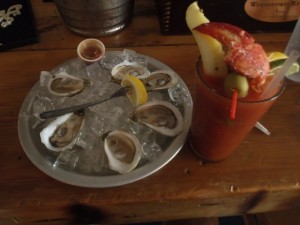 LOBSTER JOINT: At this point, it's no secret that pretty much everything at the Lobster Joint is the best—brunch, Bloody Marys, mac 'n cheese, the backyard, you name it. And happy hour at the seafood spot's Brooklyn and Manhattan locations is no exception, with stellar deals on food and drinks running weekdays from 4 p.m. to 7 p.m. Drafts run $4 (pitchers $16) and cocktails run $6 (pitchers $24), and you can score snacks like dollar oysters and $4 lobster, crab cake and fried oyster sliders to offset all that economical booze.
The Brooklyn location of The Lobster Joint can be found at 1073 Manhattan Avenue between Eagle and Dupont Streets in Greenpoint, Brooklyn (718-389-8990, lobsterjoint.com)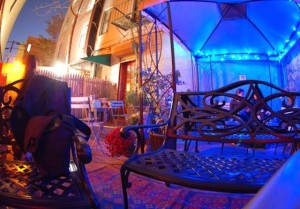 Via Yelp
SOFT SPOT: Soft Spot's drafts and well drinks run two for one until 8 p.m. (and until 2 a.m. on Tuesdays), they've got an adorable back patio, and the bar is located a block away from Vinnie's Pizzeria, home of the Veggie Mac Attack slice. That's pretty much all you need to know. Go sober, leave drunk, and unsettle your stomach with some garlic knots on your way home.
Soft Spot is located at 128 Bedford Ave between North 9th and 10th Streets in Williamsburg, Brooklyn (718-384-7768, softspotbar.com).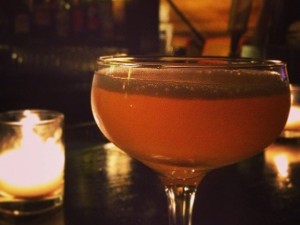 Via Facebook
BARBONCINO: This Crown Heights bar and pizzeria might be better known for its delectable Neapolitan pies, but it also offers up a pretty spectacular set of happy hours, especially for the late-night set. From 4 p.m. to 7 p.m. daily, all draft beers, spirits and cocktails get $2 knocked off; and that same deal applies again from 11 p.m. to 1 a.m. nightly, so you can get drunk, inhale a whole sopressata picante pie ($15), hit the gym and head back to do it all over again before eventually passing out on a bed of mixed baby field greens.
Barboncino is located at 781 Franklin Ave between St. Johns Place and Lincoln Place in Crown Heights, Brooklyn (718-483-8834, barboncinopizza.com).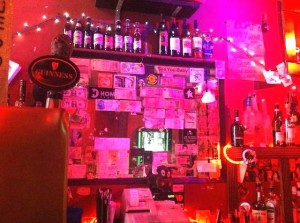 Via Foursquare
BOAT BAR: Boat's got one of the best happy hour deals on Smith Street, serving up SUPER STRONG and super cheap libations from 5 to 8 p.m. Well drinks, drafts and bottled beer are all $4 (R.I.P., $3 happy hour deal), so you can spend three hours getting tanked on gin and tonics and Anchor Steams before forcing your fellow bargoers to suffer through a Cher song on the bar's infamous jukebox. There is no food here, so please preface your drinking with a pretzel roll from nearby Stinky's, lest you transform into a giant whiskey sour before the sun sets.
Boat Bar is located at 175 Smith Street between Wyckoff and Warren Street in Cobble Hill, Brooklyn (718-254-0607).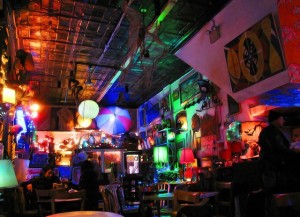 Goodbye Blue Monday (courtesy Goggla's flickr)
GOODBYE BLUE MONDAY: This Bushwick bar's got the ultimate happy hour deal for broke hipsters who just aren't ready to grow up and shave! From 11 a.m. to 7 p.m. daily, Goodbye Blue Monday takes a buck off all drafts, which are already usually on the cheap side (about $4). But they've also got a late night deal: from 11 p.m. to midnight, you can get a PBR draft and a grilled cheese for $5. Plus, you can sometimes catch a local band play a set or two—not a bad way to score a cheap dinner.
Goodbye Blue Monday is located at 1087 Broadway between Lawton and Dodworth Street in Bed-Stuy/Bushwick, Brooklyn (718-453-6343, goodbye-blue-monday.com).