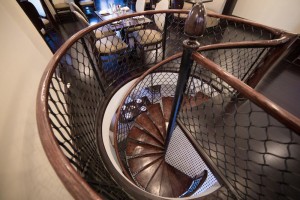 Our Buzzworthy Restaurant of the Week takes us to Clinton Hill / Ft. Greene, and we are only talking about the decor, ambiance and style on this one.  We will get to the food next week.
Clinton Hill / Ft Greene has a new Seafood restaurant in the neighborhood.  It's located at 271 Adelphi Street, on the corner of Dekalb Ave.  We are talking about Wallabout Seafood & Co,, which is  owned by the same owners of Woodlands in Park Slope.    The restaurant is elegantly designed and more on the upscale side in regards to décor and ambiance.  One of the patrons stated "it looks like they put some money into this place", just as she was seated in the upstairs section of the restaurant.
Downstairs is an elegant bar and dining area.  You walk up the spiral staircase and you find an inviting dining area, that looks like a comfortable lounge, that makes you want to hang around for awhile.  There is also a deck off the lounge area, which will be great for the spring and summer months.  We did not try the food yet, but the atmosphere is great.  We will return for a try at their appetizers, dinner and service and will let you know the results.  In the meantime read their story below.
Hoping to add to the vibrant tradition of Brooklyn's culinary scene, Wallabout Seafood & Co. marks a return to simple seasonal fare.  The menu, a product of Executive Chef Peter Larsen, joins traditional seafood with Modern American cooking.  Typical offerings involve daily oyster specials, seafood stew, and whole fish.  We aspire to become a favorite of the Fort Greene community; a locally-sourced seafood restaurant where the menu is effortless, the food fresh, and the brownstone atmosphere familiar.
Our name is conceived as a tribute to the historic district accompanying Wallabout Bay—a small body of water in New York Bay along the northwest shore of Brooklyn.  The area once included Wallabout Market—for a time the second-largest market in the world—which featured a host of local seafood arriving from New York Harbor and its surrounding tributaries. 
All told, at the heart of Wallabout is the notion that food can transport you; that the right combination of attentive service, quaint décor, and inspired cooking can create a uniquely joyous experience.  In all facets, Wallabout strives toward accomplishing this goal.  We hope that you join us at our dedicated oyster bar for cocktails, or journey upstairs to the second floor where the high ceilings and hardwood floors create a ballroom-like atmosphere ideal for casual dining and private events.