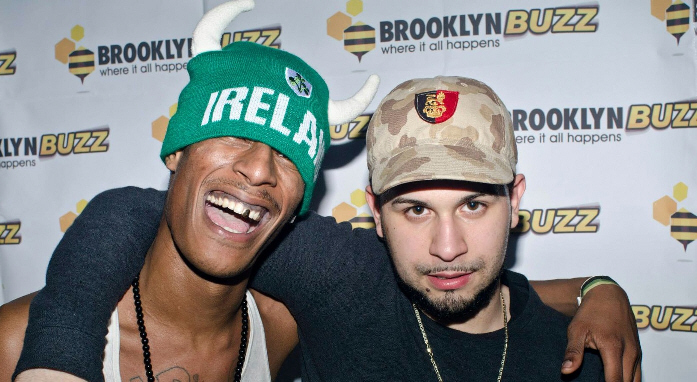 Trash Bar – Williamsburg BROOKLYN – (MADWIZ left / RADAMIZ right)
Flight Night, the Unsigned Hype Hip-Hop Showcase was off the charts last night at the Trash Bar in Wiliamsburg.  Artist after artist blessed the stage with performances that would have put many "signed" artists to shame.   When it was all said and done, MADWIZ took the honors as best artist of the night and walked out with a FLTBYS Sponsorship that includes FLTBYS lifestyle apparel, music videos by aiPandChimp and guaranteed buzz on BrooklynBuzz.com.  The decision was made by a combination of 5 judges and the response by the packed crowd.  MADWIZ took home the honors but KERRY BLU and I.O.D. were right there with him.  KERRY BLU came on stage with a live band that ignited the crowd to another level.
The show opened with a great performance by VAE STAPES and throughout the night the crowd stayed on their feet until the music stopped at the end of the night.  Besides MADWIZ, I.O.D., KERRY BLU and VAE STAPES,  artists Rayshawn Bedell, Raheem Recess, Dremos, HOA Bossman and Sha Summers all put in serious work.  You could not have asked for a better lineup.  The crowd got an early look at some unsigned artists who should not be unsigned for long.
Stay tuned for videos from the event and be sure to checkout the Culture section on the FLTBYS website for Instagram photos and videos. – FlightBoys.com