Unlike some other well-known Nigerian restaurant with decent food, small portions and expensive pricing (you know which one), Festac Grill & Lounge brings the true flavor of Nigeria without asking for much American dollars. It's your Naija "home away from home". Located in East New York, this restaurant has everything you need – even goat pepper soup. You can dine in (if you don't mind dim lighting) and watch Nollywood TV while you eat, or order takeout. Either way, you'll be happy. Very, very happy!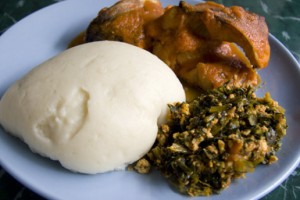 I've been there countless times, and it is my #1 Nigerian restaurant. My usual order is egusi with chicken and pounded yam, and that costs about $11. I have not yet eaten a full order in one sitting. It is impossible. The food lasts for 2 or 3 meals and for that, I am always appreciative. Beware of the power of this authentic food. If you're not careful, you will come back again and again and… you get the idea. If you're not an avid Naija food-consumer, you will definitely need to discuss the menu with someone before ordering, as the menu doesn't explain what is inside each dish. You either know or you don't.
Festac Grill is located at 263 Hendrix St, between Atlantic & Liberty Aves. There's no website, but you can call them to ask about the menu at 347-627-5151. It's probably best to just go in person, though.