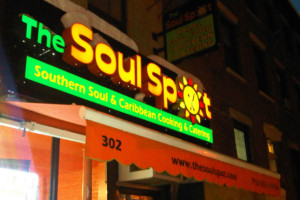 Authentic. Mouth-watering. Spicy! That's what immediately comes to mind when I think of the food at The Soul Spot. I came across this Caribbean-Soul goldmine one day while I was searching for affordable catering for my wedding last year. As a Jamaican, I knew I wanted something close to the food I was used to, but I also didn't want to exclude American dishes. My husband, a Nigerian, felt the same. We also wanted a Brooklyn caterer, as the wedding was being held within the borough. Of course I jumped for joy when I saw this restaurant doubling as a catering company. When I saw the menu online, my husband and I made an appointment for a food tasting. The rest, as they say, is history.
We fell in love with the rich flavors, a mix of Caribbean and Soul Food. We had the best of both worlds. The jerk chicken is better than most Caribbean restaurants I've been to! Now, that's saying something. The mac and cheese is perfection. The cornbread melts in your mouth. The fried chicken is delectable. The collard greens, rice and peas, and mashed potatoes taste like they were cooked in Atlanta. My husband raved about the oxtails. I could go on and on about the food, but the point is that it is GOOD! Everyone couldn't stop eating at the wedding, and talking about it afterwards.
Located at 302 Atlantic Avenue in Brooklyn Heights, The Soul Spot has been serving up deliciousness for over 10 years. The pricing is just as good. You won't have to break the bank just to fill your stomach, and your stomach will be very full. Believe me. As for the catering, we bought enough to feed everyone in the banquet hall and spent less than $700 in total. This restaurant saved our stomachs and bank accounts.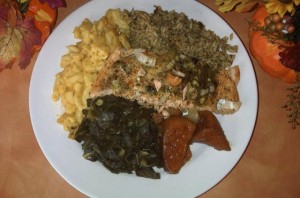 Not to mention that the service is excellent. I've always been greeted with a smile and helped quickly. The owner of the place, Chef Ceesay, is very friendly and professional, and it was a great pleasure to work with him on the wedding. He made sure our every need was taken care of, and truly made our special day that much more special.
Whether you're looking for an amazing caterer, or need to quickly quiet that growl in your abdomen, The Soul Spot is the place to go. You can eat in (with limited seating) or take a plate of home back to your home. It's even open late, and you can order online! See for yourself why The Soul Spot has been labeled "The Best of New York City" by The Plate Boys, and "Best in Comfort Food" by The New York Press. http://soulspotrestaurant.com/