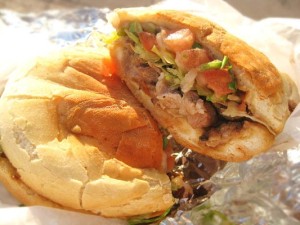 Amazing spot in an interesting part of town. The food is cheap and it's an experience eating there. You must write down your order on a piece of paper, along with your name and whether it is to go or to stay.
The tacos are cheap at $2.5 each, but remember to put on some salsa verde and lime juice to spice it up a little. The tacos are good, but can be a bit dry. Extra avocado is recommendable for some of them. The Bistec Torta was more than good; a satisfying bite with interesting flavors.
This place restored my faith in tacos in New York, and I love the fact that they do have a vegetarian option. Definitely authentic Mexican tacos. This is a go-to spot for me whenever I have friends visiting the city. BYOB spot.
Tortilleria Mexicana Los Hermanos is also a tortilla factory. The tortilla is freshly made. Not sure if they offer the corn tortilla but each taco is given two flour tortillas to hold all the goods: beans, lettuce, tomatoes, sour cream, avocados. They do not offer any type of seafood. So definitely beef, chicken and vegetarian options. They are very generous with their toppings as well.
Tortilleria Mexicana Los Hermanos
271 Starr St
b/n Wyckoff & St Nicholas Aves in Bushwick
(718) 456-3422