Looking for something cool to wear, at a bargain price? Head to these Brooklyn thrift stores and markets to find great merchandise that nobody else will have. Shopping thrift stores is a great way to furnish a home, add to your wardrobe and even find unusual gift items for Christmas, Valentine's Day and special occasions.
1. Housing Works – A Thrift Shop with a Social Mission, to Fight AIDS

Housing Works has two locations in Brooklyn, one in Park Slope and one in Brooklyn Heights. The former has children's goods, including toys and clothes. Both have a rapid turnover of fairly high quality merchandise. Prices are not rock bottom, but you can find good buys, particularly on housewares and knick-knacks such as photo frames, bowls and lamps. Look here for accessories, too — belts and bags, shoes and shawls. The items in the display windows are often the best, but these are sold by online auction. Read more about Housing Works.
2. Beacon's Closet — Sleuth for Style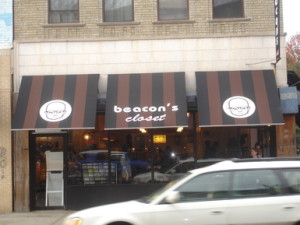 Beacon's Closet is an experience. You can find great bargains here, and also resell your own cool vintage items. It's the heart of the Brooklyn vintage scene.
Williamsburg Store
Where: Williamsburg store: 88 North 11th Street, between Berry Street and Wythe
When: Monday to Friday, 11 A.M. – 9 P.M. Weekends,11 A.M.-8 P.M.
Directions:By subway, take the l train to Bedford Avenue Walk up Bedford Avenue In the direction of traffic for 4 blocks, to North 11th Street. Take a left on North 11th Street. Walk up North 11th Street for 1 and a half blocks.
Contact: (718) 486-0816.
Park Slope Store
Where: 92 5th Avenue at Warren Street.
When: Monday to Friday, Noon.- 9 P.M. Weekends,11 A.M.-8 P.M.
Directions: By subway, take the B, D, N or Q to Atlantic/Pacific, or the 2/3 to Bergen Street and then walk to 5th Avenue.
Contact: (718) 230-1630.
3. Salvation Army — Nine Different Thrift Stores in Brooklyn
You never know what you might find at the Salvation Army thrift stores in Brooklyn. Vintage etched wine glasses. Fabulous old shoes. Functional plates and silverware. Kids clothes galore. Tables, chairs, lamps and even sofas that can be refurbished (try a can of spray paint on the wood and cane pieces) and gussied up. You need to have patience and imagination when shopping in these stores. But they're chock-a-block with stuff. Check the listings of nine different Salvation Army Thrift stores in Brooklyn for the one nearest you.
4. Brooklyn Flea – A Vintage Marketplace. Not Cheap, But High Quality & Fun
Where and what is Brooklyn Flea? This is a market with two locations (at least.)
Where to Find Brooklyn Flea on Saturdays in Autumn
When: Saturdays, 10 a.m. to 5:00 p.m. Rain or shine.
Where: 176 Lafayette Avenue , between Clermont and Vanderbilt Avenues (Fort Greene)
How to Get There: Take the A or C train to Lafayette Avenue, or the G train to Clinton/Washington Ave. Or, take the 2/3, 4/5, B/D/Q, M/N/R to Atlantic Avenue, walk up Hanson Place to Greene Avenue, then follow Greene Avenue 4 blocks and turn left on Clermont Avenue.
What's Nearby: Fort Greene, Clinton Hill, Atlantic Mall
Where to Find Brooklyn Flea on Sundays in Autumn
When: Sundays, 10 a.m. to 5:00 p.m. Rain or shine.
Where: Next to the high rise residential complex EDGE, and near East River State Park
How to Get There: Take the L train to Bedford Avenue, walk down North 6th Street to the East River (Williamsburg)
What's Nearby: Williamsburg and Greenpoint, with many bars, restaurants, shops and art galleries.
5. Union Max — Low Key, Low Prices
If you're in the market for costume jewelry in the $12-$20 range. You can also find a selection of inexpensive vintage clothing and shoes, as well as household items such as salt and pepper shakers, head to this store on the corner of Union Street and Columbia Street.
Where: 110 Union Street between Hicks and Columbia Streets.
Contact: (718) 222-1785
6. Bargain Vintage Stores — For Some of the Best, Go to Williamsburg
Here's a category of store that's in-between "vintage" and "thrift." That means prices are low, the merchandise is used, but you can find great items, some newish, and possibly designer label clothing.