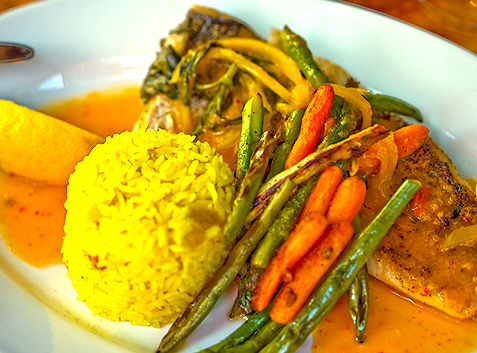 Members of the BrooklynBuzz.com staff are frequent diners at many of the restaurants, diners and bars in Brooklyn.  Madiba, the South African restaurant on Dekalb Ave. in Ft. Greene, is one of those restaurants.  A couple of us went over there recently and decided to give it a true review.  The following categories are out of 5 stars.
Food: 4 stars.  The fish parcel is great when it's great, but there are times when it's not so great and just so-so at best.  Fish parcel is inconsistent.  Burgers are surprisingly very good.  The salmon is always good, whether you have it for lunch or an appetizer for dinner.  The flourless chocolate cake is excellent for dessert.  We also like the curry rotis, but they are not the same rotis that you get from the local West Indian restaurants in Brooklyn.  You have to put this roti together yourself.  The couscous is always excellent with any meal.
Service: 4 stars.  The staff is always pleasant, friendly and attentive.
Atmosphere: 4 stars, but 5 stars in the Spring and Summer when you can also sit outside in the front.  There is no rear outside seating, but who cares, you want to see the action in the front anyway.  There's an area for lounging (eating/drinking) , a very small bar that has seating for up to 6 on one side and then there's seating at the bar in the dining section, that seats about 5 people.  The dining area is pretty cool but some of the tables are low and if you're tall you might not be able to fit your legs under some of the tables.
Demographics: 5 stars.  There's always a mixed crowd at Madiba, no matter what time of day or which day of the week you go there.  You will find people there speaking 6 different languages at 6 different tables.  The atmosphere makes everyone feel welcome.
Drinks: 3 stars.  They only have 2 beers on tap and they serve the beer in jars instead of regular glasses.  Our staff still can't get used to that.  Their mixed drinks are decent and they have the regular wines that you might want.
Pricing: The pricing is comparable to the other restaurants in Ft Greene/Clinton Hill.  But their lunch prices are pretty good for the quality of food and atmosphere.
Overall: 4 stars.  You are sure to find something good on the menu and you will feel good about being there.
195 Dekalb Ave (Corner of Carlton Ave)
Brooklyn NY 11205